We as gamers are always a little curious as to how well a game is doing at any given point, but it is very rare that a studio releases the figures that allow communities to find out. Well, EVE Online may have an answer to this question as community member Jestertrek has released a series of graphs that use Chribba's eve-offline site to present the information in an easier to understand way and it turns out that in recent months, the amount of players logging in to EVE has decreased drastically and is in fact at the lowest it has been since 2008 with a little over 21,000 players being logged on concurrently at any one time. This is a pretty large drop considering a high of almost 36,000 players back in 2011 and 2013, showing roughly a 15,000 player drop over this time.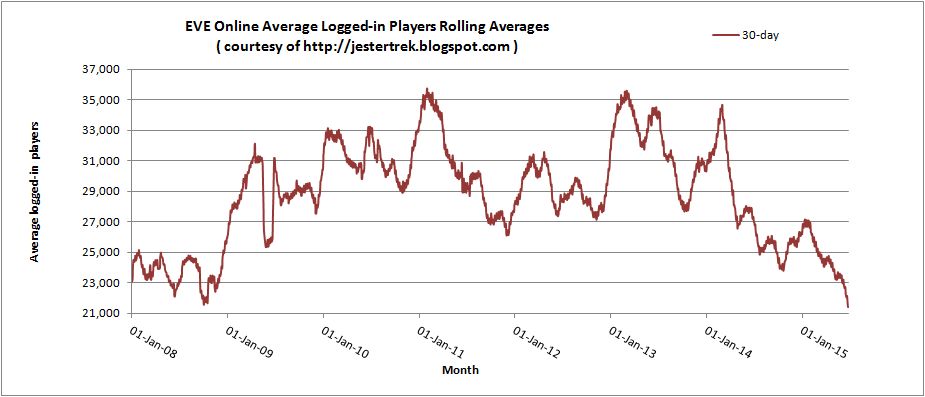 Reddit user Ohh_Yeah has come up with several potential reasons for the activity drop off recently, including nerfs to game mechanics making the game tougher for new and single players, and of course, the usual reasons that veteran players simply drop off after a few years in an older game. With the higher barrier to entry and interest drop-off, EVE Online is not the most interesting place for players to spend their online time.
The graphs themselves don't show subscriptions or peak concurrent users, but it reveals enough to tell us that EVE is not doing as well as it was between 2009 – 2014. However, 21,000 players logged in at any one time is still a decent amount so it's hardly the end of New Eden but it could be an indication of things to come or even a need for some drastic changes.
EVE Online
,
MMO
,
News
,
Sandbox
,
Sci-Fi