CCP has announced that the alpha for their VR title, EVE: Valkyrie, will enter its alpha phase later this month; on January 18th. As the game is part of the pre-order bundle for the Oculus Rift, it's no surprise they're ready to start this first phase of testing with the pre-orders of the virtual reality device going live yesterday. Owners of the Oculus Rift DK2 headset interested in trying out the game in the early stages, can now sign-up for alpha testing. New players will be admitted in waves starting before the first test.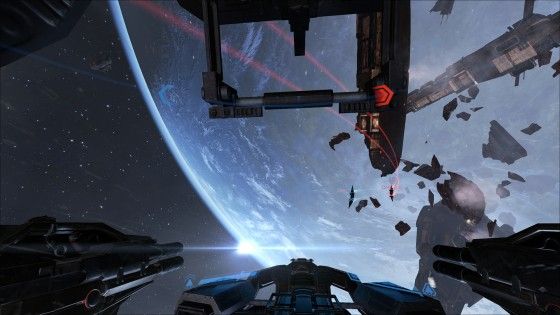 EVE: Valkyrie is the highly anticipated, award-winning multiplayer dogfighting shooter by CCP Games that has been built from the ground up to harness the latest advances in virtual reality technology. It's an accessible and immersive experience that truly makes you feel like the pilot of a spaceship in the midst of combat. If you wish to learn more about the game and its cutting-edge technology, make sure you visit the official EVE: Valkyrie website.
Our Thoughts
We're beyond excited to try out EVE: Valkyrie, but we hope the game will not turn out to be a VR exclusive title, especially since we heard about the rather high prices of the Oculus Rift. As not everyone will be able to afford the Oculus Rift, it'd be a shame if they had to miss out on such a fantastic game because it's VR exclusive.
Source: Press Release
Related:
Alpha
,
CCP Games
,
EVE Valkyrie
,
News
,
Oculus Rift
,
Space MMO
,
Virtual Reality