CCP Games and Oculus have partnered up and have got some exciting news! EVE: Valkyrie will be premiering on the Oculus platform, and all pre-orders of the Oculus Rift will include a copy of the game! That's a free space game in which you can actually be in space. That's pretty darn neat, if we may say so ourselves.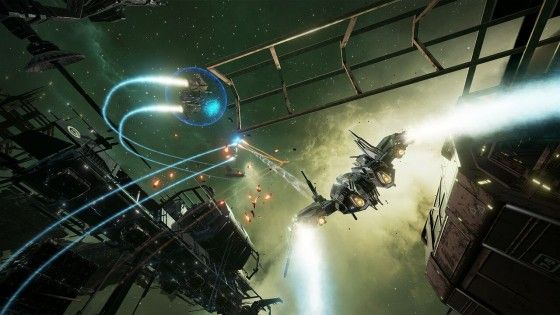 Palmer Luckey, Founder of Oculus, said the following about the partnership: "EVE: Valkyrie is one of the most anticipated virtual reality games, and one of the first true VR games to go into development. It perfectly captures the promise of immersive gaming, shooting you into a sci-fi adventure as you pilot a spaceship in search of combat. Battling your friends (and enemies) in multiplayer space dogfights is the ultimate VR thrill, and we're excited to partner with CCP to bring this experience to Rift owners everywhere."
In EVE: Valkyrie you take control of a heavily armed fighter, and you'll shoot away in the most realistic space game available on the platform. With visceral team-based action, the game creates the most immersive EVE experience in which player choice truly matters. Plus, it's free if you're pre-ordering an Oculus Rift, so why would you not play it?
Our Thoughts
At every convention for the last few years we've jumped at the opportunity to play EVE Valkyrie, though not much has changed from one convention to the next it was our only chance to play. Thankfully that's changing now and we'll be able to become pilots in our living rooms. It started to feel like it was never going to come out, but suddenly this is one of the most anticipated games in the MMOGames office.
Source: Press Release
Related:
CCP Games
,
EVE Valkyrie
,
News
,
Oculus Rift
,
Partnership
,
Virtual Reality