CCP Games has made the HTC Vive perhaps a bit more enticing as EVE: Valkyrie launches on Steam for the platform. The VR multiplayer sci-fi dogfighter is now the first multiplayer VR title released on all major headests.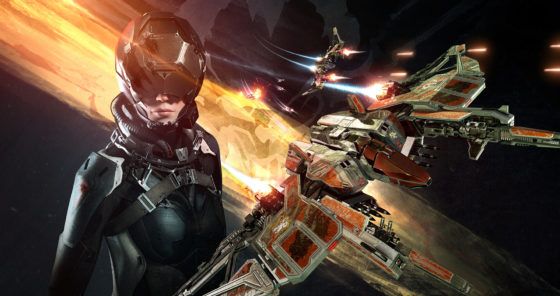 EVE: Valkyrie will offer cross-platform play to everyone regardless of headset, letting players join forces or fight against each other in dogfighting action. The Steam edition includes the Joint Strike release which adds co-op missions and a single-player story mode, and the game's next update arriving in December will add new maps, modes and ships for free.
EVE: Valkyrie Founder's Packs can be bought on Steam for $59.99, and include several goodies such as a ship, flight suit and in-game Gold. For a limited time, Steam buyers will also get the VR rail shooter Gunjack for free.
Our Thoughts
The best part of EVE: Valkyrie is the cross-platform play. CCP Games are all about having a shared single universe after all, so it just makes sense that players aren't walled off from each other due to their choice of VR headset. We're excited to see this game continue to grow!
Your Thoughts
Have you played EVE: Valkyrie, or were you waiting for it to release for the HTC Vive? What do you think about the title so far? Give us your thoughts below in the comments.
Source: press release
Articles Related to EVE: Valkyrie
EVE Valkyrie Bundled with Oculus Rift Pre-Orders
CCP Games Announces EVE Valkyrie
Top MMO News: March 28 2016
Related:
EVE Valkyrie
,
HTC Vive
,
News
,
Release
,
Steam
,
VR