The first series of what were called "co-opetition" challenges have arrived in EverQuest 2 GU103. Subtitled "The Menagerie", this game update offers new Proving Grounds co-op events and the addition of a Familiars system.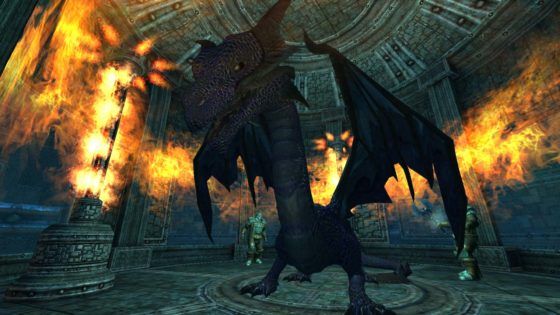 Cooperative Competition Zones pit two groups of up to six players against each other to beat the clock and finish objectives the fastest. Facing off in these limited-time events offers up rewards such as orange adornments, unique titles, new familiars and more.
The two new Proving Grounds events are both "race to completion" challenges. The first is called "Battle for Felwithe", and pits teams in a race to take down New Tunarians as fast as possible. The second, "Battle Upon the High Seas", will see which team can clear a ship full of Brokenskull pirates and take over a pirate ship quicker. Battle for Felwithe runs from now until May 16th, while Battle Upon the High Seas runs from May 16th to the 23rd.
The Menagerie will also introduce a Familiar system, which lets players earn unique pets that provide a variety of buffs. Certain Familiars can even offer level 100 characters custom abilities. In addition, the Familiars tab will let players customize the appearance of their pet, combining the appearance of one Familiar with the boons of another.
If all of this sounds out of your personal reach, the devs have also begun offering a free Level 100 character boost to everyone who logs in between now and Monday, May 22nd. More information about the boost can be found here, and details about GU103 can be found here.
Our Thoughts
While the Familiars system sounds really interesting, we're more curious to find out how players take to the new co-op Proving Grounds. We definitely hope they catch fire and we especially hope that more unique types of "co-opetitive" modes are introduced soon in order to try and keep things fresh.
Source: official site
Articles Related to EverQuest 2
EverQuest 2: Kunark Ascending Review
Why EverQuest 2 is Dying
20 Old MMORPGs You Can Still Play
Related:
Everquest 2
,
MMORPG
,
News
,
Update