Turtle Rock and 2Ks asymmetrical four versus one multiplayer has a patch coming this March 31st and promises more options for the deadly game of hide and seek.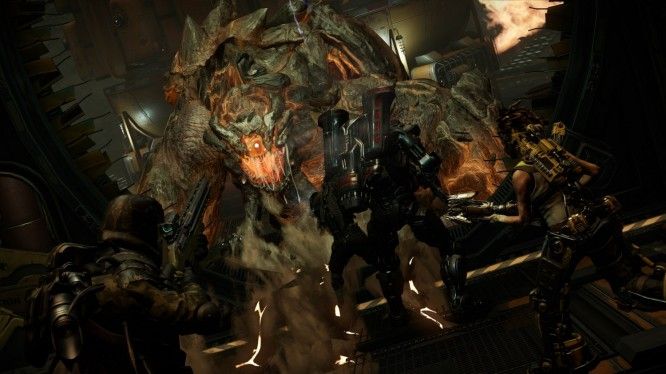 The end of the month will see four new hunters available on all platforms (PC, PS4 and Xbox One) for players to pick from.
Players can choose to go hunting for beasties as the cybernetically enhanced Torvald for the Assault class. They can instead try Trapper with Crow who apparently found Shear cosy up until the monster infestation.
Alternatively rounding out the other classes are a genetically modified former soldier called Slim acting as medic, I hope you don't mind bug men, or one of the original four hunters created for Evolve, Sunny who fills the Support role.
For anyone looking for a hint on how they play, have a look here for tips.
Giving the four something to hunt, players who prefer the raw power of the Monsters can look forward to getting their hands on the Behemoth on all platforms the same day. Anyone who pre-ordered gets Behemoth for free, anyone else is looking at a cost of $14.99 to play with the big bugger.
Finally, as well as announcing the upcoming Observer Mode, Evolve will be getting two more maps. However while the Broken Hill Mine and Broken Hill Foundry maps will be available for free, they are coming first to Xbox One on March 31st, followed by PC and PlayStation 4 a month later on April 30th.
Source: Official Site
Related:
Evolve
,
News
,
Patch
,
Update