After being removed from Steam and giving way to much speculation on the official forums, it has now been now confirmed that Evolve goes free-to-play on PC as of today. The new version of the game is called Evolve Stage 2 and will go live on Steam as a Beta in only a few hours from now, featuring new game design, gameplay mechanics, and improved gameplay balance and system performance.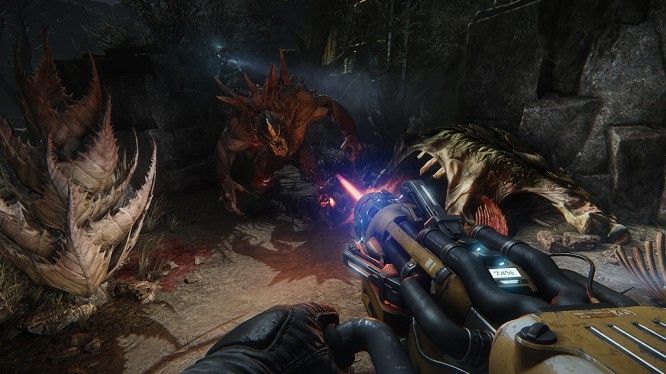 Evolve is a four-versus-one shooter that was launched in February 2015 for PlayStation 4, Xbox One and PC, with a buy-to-play model. The reasons for the radical overhaul of the game and the business model change seem to be the failure of the game to deliver on its initial high expectations as well as the problems caused by the buy-to-play model.
This relaunch represents an effort on the part of Turtle Rock Studios to rework the entire game experience and bring back the initial appeal that the game had for its players.Turtle Rock's co-founders explained in their official message that the DLCs took away players' enthusiasm, which they would like to return to by changing the business model and overhauling the entire Evolve experience through various improvements, tweaks and additions, a few examples of which were provided:
We're reworking the hunter classes to make the team less reliant on having experienced trappers and medics.
We're making improvements to the maps and UI.
We're improving load times, overall performance, and getting you into the game faster.
We're focusing on improving stability and fixing bugs.
We're completely reworking our progression system and tutorials.
We're adding more customization options.
Players who already own Evolve will be granted "Founder" status in the new free version. They will still have access to all the content they have already purchased in the new version of the game, but will also will be granted "gifts, rewards, and special access" in return for their past support.
You can find more details about Evolve Stage 2 by reading the official announcement on Steam and by watching the launch trailer below:
Our Thoughts:
The news of Evolve being reworked and improved instead of getting completely shut down is very encouraging and we're liking the direction in which developers want to take the game. It remains to be seen how things go for Evolve from now on but we're looking forward to these updates.
What are your thoughts on Evolve's big change? Will you pick up Evolve Stage 2? Let us know in the comments!
Source: letter from the co-founders, official website, press release
Recent Articles Related to Multiplayer Games
E3 2016 Multiplayer Roundup
Play Atlas Reactor Free For A Week
Livelock Release Date Confirmed For Summer 2016
HoloGrid: Monster Battle Adds Remote Multiplayer
Related:
Beta
,
Evolve
,
F2P
,
Free to play
,
Multiplayer
,
News
,
PC
,
Playstation 4
,
Shooter
,
Xbox One