If you've ever wanted to play an aggressive tribal teddy bear or would like to blast said teddy bears in the face, then the upcoming Night on Endor update coming to Star Wars Battlefront II next week will be of interest to you. The update will bring a new limited-time mode to the multiplayer shooter along with the return of the Crystals cash shop currency.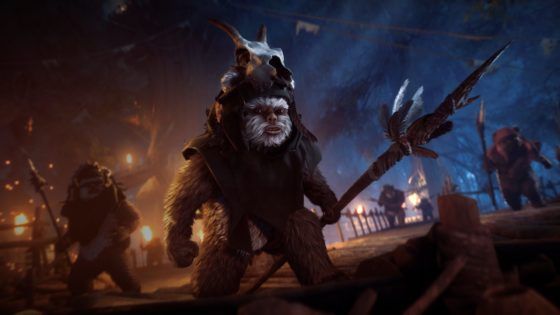 Let's get the more fun thing out of the way first: Ewok Hunt will have two teams facing off against each other on a darkness-covered Endor map; one team of stormtroopers armed with flashlights and significantly more advanced weaponry; and one team of Ewoks armed with spears, Wisties, and a variety of other skills.
For every stormtrooper taken out, another Ewok spawns until the Imperial forces are completely overrun, but the Ewoks are vastly outgunned as the stormtroppers must hold their ground until an extraction ship arrives.
Now for the not-so-fun thing: the game's Crystals cash shop currency will also be part of the Night on Endor update, along with over 50 new character skins such as Endor Leia and Endor Han. As mentioned when the game's loot boxes made their return, Crystals are a cash-only currency that can only be used for Appearances and not for loot boxes. Additionally, Credits earned from playing the game can be used to purchase Appearances as well.
Other improvements are planned for Star Wars Battlefront II in the future, such as the start of the game's second season, a variety of balance and bug fixes, plans to address Hero Starfighter leveling speed, and a number of other items. These topics are all addressed in the first of a monthly series of community letters planned from the devs.
As for the Night on Endor update itself, players can expect that to arrive on Wednesday, April 18th. More details can be read on the game's site.
Our Thoughts
Look, I'll be honest…any reason to blow away Ewoks, I'm all for. As for the update itself, we are certainly curious to read your thoughts on the planned adjustments to the game in the future or whether you think Star Wars Battlefront II has turned the corner with regards to its monetization, so be sure to share them below.
Sources: press release, official forums
Articles Related to Star Wars Battlefront II
Loot Boxes Return to Star Wars Battlefront II
Star Wars Battlefront II Tweaks Credit Earnings
Star Wars Battlefront II's Store Closure Prompted by Disney Execs
Related:
FPS
,
Multiplayer
,
News
,
Star Wars Battlefront 2
,
Update