Let's all try to think of it less like yet another battle royale mode and more like Bomberman with pixel-y avatars and more people playing. Trove: Bomber Royale has been revealed by Trion Worlds, bringing its own bomb-loaded twist on the ever-ballooning battle royale craze to the cubist world of Trove.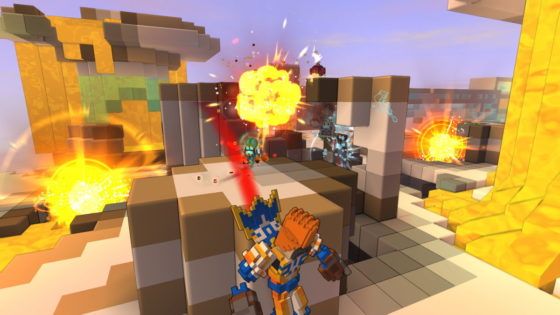 In Bomber Royale, 20 players will be loaded into one of three different maps and battle it out to be the last person standing as the arena ground literally disintegrates around them and shrinks the battlefield. The bigger twist is that bombs are the only weapon type, which means that players will have to bear in mind terrain destruction and any potential splash damage along with all of the other typical battle royale tactical considerations.
Naturally, Bomber Royale will have a wide variety of different bomb types to fling about, including sticky bombs, bouncy bombs and more. Players will also get to use power-ups and abilities like a grappling hook to maneuver around quickly or healing items.
Those who do battle in this explode-y new arena can get their hands on a new seasonal currency that can be used to get season boxes, season-specific auras and other goodies. Loot tables for these rewards will be refreshed frequently, and any XP earned while playing Bomber Royale counts towards your regular XP earnings for PvE adventuring in Trove.
Bomber Royale is set to arrive to Trove this Summer as part of the MMO's next major update. More details on what this mode is all about along with other things coming this Summer will be announced soon.
Our Thoughts
Yeah. Yeah, okay…yeah. Just…okay. Fine, guys. That's fine. This is fine. Another battle royale mode is…it's fine. It's fine.
Source: press release
Articles Related to Trove
Battle Royale-Style Mode is Part of Dota 2's Battle Pass 2018
Battle Royale Mode is Coming to MapleStory 2
LawBreakers Studio Reveals New Battle Royale Radical Heights
Related:
Battle Royale
,
MMO
,
Trove
,
Update