Update
The Fable Fortune Kickstarter is live now.
The demise of studio Lionhead and, with it, that of the next installment in the Fable games series was a great blow to all fans. However, it appears that the Fable series is not quite yet dead yet, as IGN just announced the imminent launch of the Fable Fortune Kickstarter campaign.
Fable Fortune was secretly developed by Lionhead for 18 months before closing down. Ex-Lionhead developers reunited as Flaming Fowl Studios to finish their project and are now turning to crowdfunding to finish their project. Microsoft has given its approval in using the Fable license for this project, indicating it is willing to allow the franchise to continue.
Fable Fortune is a free-to-play card game in the vein of Hearthstone, Chronicle: RuneScape Legends or Hex: Shards of Fate. There will be eight heroes with deck-altering abilities and the goal is to defeat the opponent via a variety of offensive spells.
However, it appears Flaming Fowl is planning some improvements on what we are already used to, such as using a more engaging 3D art style, offering a full online co-op mode against AI "bosses" using themed decks, a leveling system for cards used regularly, and Trophy Cards, extra units or spells offered to the player who plays second.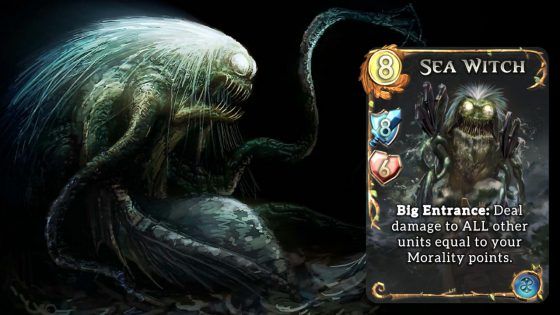 IGN reports that the development team has used pieces of Fable's history for card designs. The above card, for example, is based on an unused concept art for Fable 1's Kraken.
You can watch 17 minutes of a Fable Fortune PvP match below, courtesy of IGN:
Here are a few more details about the timeline for the Fable Fortune Kickstarter.
The game begins its Kickstarter campaign tomorrow, Tuesday May 31 at 3pm BST / 10am ET / 7am PT. The team hope to raise at least £250,000 in four weeks, with multiple stretch goals planned beyond that.
Flaming Fowl expects Fable Fortune will be ready for closed beta within a few weeks of the end of the campaign, then an open beta on PC and Xbox One in October, with a full release to follow late in 2017.
Source: IGN
Related Articles
Lionhead Studios Given No Advance Warning Regarding Closure
Microsoft Cancels Fable Legends, Considers Closing Lionhead Studios
Fable Legends Open Beta Delayed to Spring 2016
Fable Legends Game Director Defends Free-to-Play Model
HEX: Shards of Fate Live on Steam
Chronicle: Runescape Legends Steam Release Happening Today
Related:
CCG
,
F2P
,
Fable Legends
,
Lionhead Studios
,
News
,
TCG