At least we hope it was a mistake. Bethesda seems to have yet another issue on their hands. This time with regards to Fallout 76 support tickets which are being sent to one particular player seemingly by mistake. Not only are they getting support tickets this particular player is seeing player's receipts for power armor sets that include email address, home addresses, and the type of card being used to make the purchase. The player reached out to Bethesda on social media and on the official forums when they noticed the error. They also reached out to players on Reddit and other social media platforms to let them know what was going on.
Despite the very serious violation of personal information the only response from Bethesda about the incident so far has been on the forums where a community manager said, "Hi guys, we've resolved the issue." Yep. That's it.
When asking a GDPR consultant what ramifications this could have if any of the players with leaked information could be from Europe he laughed, not the good sort of laugh. The kind of laugh you have when you're glad you're far, far away from it all.
Because of the sensitive nature of the data and the inclusion of a potentially sensitive image we won't be linked to the tweet that first drew our attention. Instead, we've included it below with any identifying information removed. This is just the latest in many missteps taken by Bethesda recently surrounding Fallout 76. As this is an ongoing story we will be following it closely and we will update you as soon as there is more information. Based on Bethesda's rather short response it would seem that it is safe to continue to submit tickets and make purchases. Hopefully, there will be more information soon.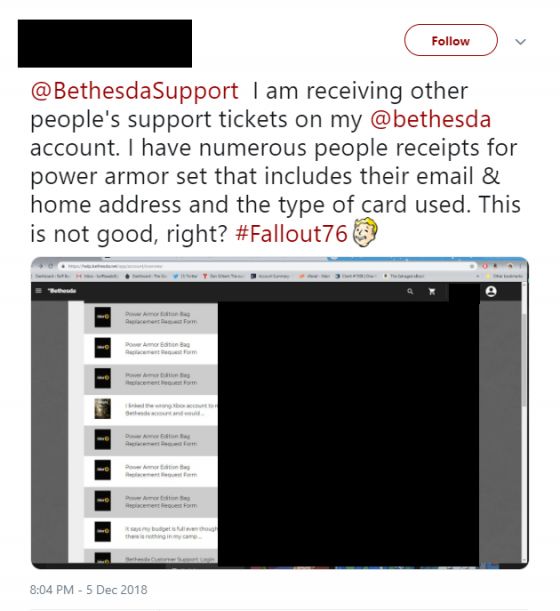 Source: Twitter, Reddit, Bethesda Forums
Related:
Fallout 76
,
Leak
,
News