Nothing is quite as important in MMORPG gaming as looking your absolute best. Whether it's pauldrons that could fit an entire pu pu platter's worth of food or a robe that exudes your mystical strength, dressing up is always fun. With that in mind, the World of Warcraft Trial of Style is celebrating all things dress-up this weekend.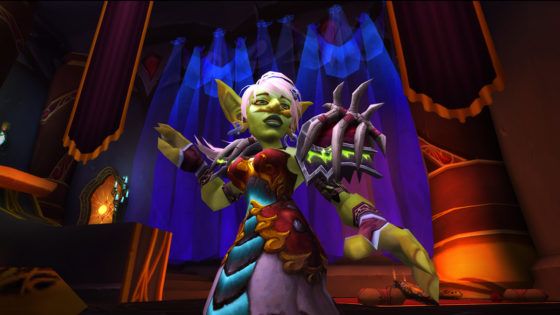 From now until Monday, August 21st, players can queue for the five-player scenario at their local Transmog NPC to do fashionable battle on the stage. Contestants have two minutes to put together a look from their transmog collection based on the scenario's theme. After that, two players at a time will be placed on stage to strike a pose in their best outfit, which is judged by the remaining three players.
After players offer up The Look, prizes will be handed out for first, second, and third place, along with consolation prizes for all other participants. These prizes reward tokens that can be redeemed in Dalaran for unique transmog items.
In addition to the event itself, all players will be able to take advantage of the Barbershop and Transmogrification services in their respective areas for absolutely no cost.
Our Thoughts
While this isn't quite as entertaining (in our opinion) as the costume contests held in Atlas Park in City of Heroes, the Trial of Style is a very close second indeed. Anything that offers up rewards for showing off is gonna be a hit. Let's see you werk, cover elf!
Source: official site
Articles Related to World of Warcraft
World of Warcraft Patch 7.3 Will Broaden Account-Wide Unlocks
WoW's Mythic Dungeon Invitational Turns PvE into an Esport
WoW Wednesday: The Evolution of PvP Part 1, Part 2
Related:
Event (In Game)
,
MMORPG
,
News
,
World of Warcraft