If there's one thing that both the Final Fantasy and Monster Hunter series have in common, it's impossibly enormous weapons. They also share the common thread of huge, iconic and dangerous monsters. So it makes sense that a Monster Hunter World FFXIV collab event would see both games lending one another some of their more popular beasties.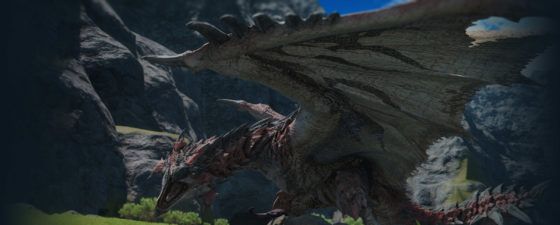 Reveals made over the past couple of days by way of two new trailers have confirmed that Eorzea will be invaded by Rathalos, while the…uh…world of Monster Hunter World will get Final Fantasy's iconic Behemoth.
Both games have, naturally, also created some new landing pages that reference one another ahead of the collab. For those playing Final Fantasy XIV, the Rathalos fight will require players to be at least level 70 and have completed the "Stormblood" main scenario quest. The Behemoth fight doesn't have quite as many details, only saying that Behemoth's arrival will be part of the game's fourth free title update.
In both cases, this new collaborative effort will arrive sometime this summer.
Our Thoughts
Rathalos and Behemoth. Two of the game's most powerful critters, taking a tour of new realms, enjoying the sights, eating the delicious local wildlife, and clawing heroes for leisure. Sounds like a good time all around.
Sources: Monster Hunter World site, Final Fantasy XIV site
Articles Related to This Story
FFXIV Community Spotlight: Twitch Streamer Tuatime
Monster Hunter World Adds a New Elder Dragon
Final Fantasy XIV Opens its Physical DPS Gear Design Contest
Related:
Crossover Event
,
ffxiv
,
Final Fantasy XIV
,
MMO
,
Monster Hunter World
,
Multiplayer
,
News