Taking pages from one of the best community features in Lord of the Rings Online and the perceived gaming habits of most competitive multiplayer gamers, Final Fantasy XIV patch 4.15 is released with a new MOBA-style PvP game mode and the ability for Bards to actually play instruments like Bards would.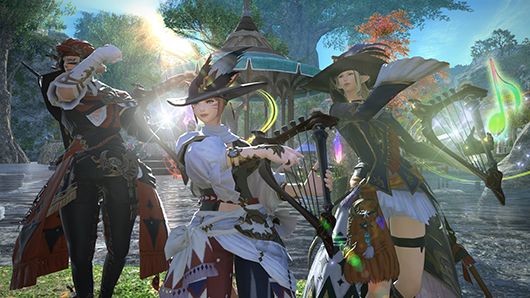 The half-patch has only two headlining features, but they are remarkably in-depth. Players who have taken a Bard up to level 30 can now use Performance Actions, which are located on the Performance section of the Actions and Traits menu. Each action corresponds to a musical note and can be arranged to play music on-the-spot.
The devs have a warning (in bold letters, no less) that uploads or recordings of any in-game performances follow the MMO's material usage license and that performance of third-party music is strictly prohibited. Except for the opening theme for the TV show "Dad of Light", apparently.
Patch 4.15 also has the new Rival Wings PvP mode, the MOBA-styled game type that sees two teams battle it out to take out their opposing team's core. The patch notes for the update offer a great amount of information about Rival Wings mechanics, so be sure to give them a look.
Our Thoughts
You just know that players are going to ignore the warning to not play third-party music in-game. You just know it. So, with that said, we're most definitely looking forward to seeing players strumming their lutes or wailing on each other in Rival Wings.
Source: official site
Articles Related to Final Fantasy XIV
Final Fantasy XIV's Rival Wings PvP is Totally a MOBA
Echoes of Eorzea: Starlight Celebration History and Ideas
Naoki Yoshida Addresses Final Fantasy XIV's Housing Problem
Related:
Final Fantasy XIV
,
MMORPG
,
News
,
Update