Hurray for a new instance! But Final Fantasy XIV 4.25 isn't just adding any old instance; it's adding a new zone where players can fight new creatures, experience new progression mechanics, and earn some special rewards in the process. Welcome to the Forbidden Land of Eureka Anemos.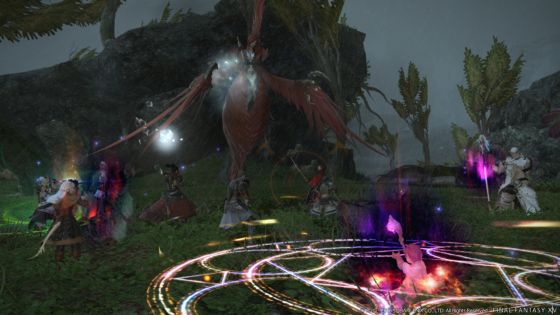 Eureka Anemos will allow 144 players in one instance at a time, where people can form groups and explore the area and fight notorious monsters together. Earning XP in Eureka will be a unique, self-contained system that helps players strengthen their ability to harness the elements, but will also have its own unique death mechanic that sees XP or even levels lost upon defeat.
Speaking of harnessing the elements, that's where the recently described Magia Board comes into play. Players will use the Magia Board to strengthen their attacks to counter the elemental resistances of the foes they face in Eureka. Of course, the point of all this is to get rewards, and Eureka will indeed provide with protean crystals that can be used to enhance new Eureka weapons and armor.
Patch 4.25 will also be introducing the latest adventure in the Hildibrand side quests and officially kicks off the new season of The Feast PvP. Complete patch notes for the latest update can be read on the game's official site.
Our Thoughts
It's Pillars 2.0 and, ideally, this will be more intriguing and rewarding for players. We have to admit that some of the systems tied to Eureka sound a bit complex on paper, but ideally they'll become more transparent through playing the game content itself.
Source: press release
Articles Related to Final Fantasy XIV
Final Fantasy XIV's Forbidden Land of Eureka Detailed
Final Fantasy XIV: Dad of Light's Ren Osugi Passes Away
Eorzean Evening Post: Just FFXIV Things
Related:
Final Fantasy XIV
,
MMORPG
,
News
,
Update