Yep, it's another Halloween MMO event. Lots of 'em fluttering about, naturally. This one is certainly familiar to Final Fantasy XIV fans; it's All Saints' Wake 2018 and it has its arrival date and a look at the cute goodies waiting as a reward.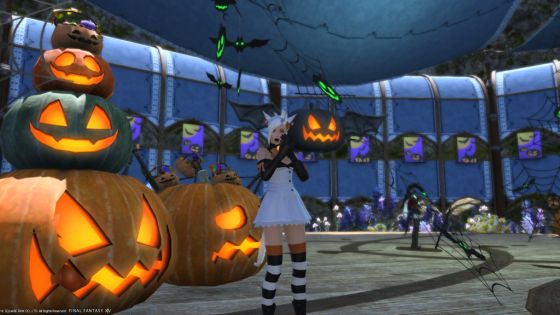 This year's All Saints' Wake festivities will take place between Thursday, October 18th and Thursday, November 1st. The seasonal quest line begins in Old Gridania and has players once more looking into the suspected ill doings of the visiting Continental Circus.
As is often the case with seasonal event pages for this game, specifics on just what this year's celebration entails are a bit thin. However, the blurb detailing the quest does make mention of the Circus' mansion, which means the Halloween-themed four-player dungeon that takes place in a dressed-up Haukke Manor may play a part.
What is detailed are the rewards waiting for those who participate in the event. Players can get themselves a pair of cute little ghost Minion pets and a selection of All Saints' Wake housing decor.
Our Thoughts
Look, it might be a rehash of the last time Final Fantasy XIV players had this event, but we've got to admit that those ghost pets are pretty darn cute. We're hoping that this year's event doesn't disappoint too many fans.
Source: official site
Related:
ffxiv
,
Final Fantasy XIV
,
MMORPG
,
News
,
Seasonal Event