"Hikari no Otousan", the Final Fantasy XIV drama arriving on Japanese television, is spinning up its hype machine for those eager to watch the series. New information has come to light today that offers up more concrete broadcast details and a look at the series' theme song.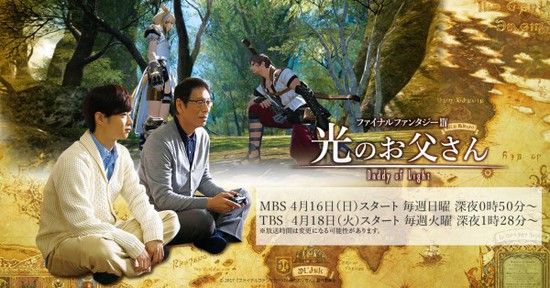 The theme for the show is performed by Japanese rock group Glay and is titled "The Other End of the Globe". Oricon News has offered up a video which shows off the series' opening sequence and gives viewers a look at how the show will combine real-life filming and in-game footage.
Other information announced includes additional cast member names such as Yoshihiko Hakamada, Minako Kotobuki, and Mako Ishino among others. Other names have also been confirmed, including directors for both the live-action segments and the in-game "Eorzean unit" as well as the writer for the series.
The show is scheduled to air on Mainichi Broadcasting System Sunday, April 16th and on Tokyo Broadcasting System Tuesday, April 18th. More details can be read here, and you can watch the show's opening sequence below.
Our Thoughts
The more we hear and see about this series, the more we would love to watch it ourselves. It's unlikely we're going to see Hikari no Otousan arrive to the West, but we can always hope that fansubbers will let Final Fantasy XIV fans outside of Japan enjoy the series too.
Your Thoughts
What do you think about the Final Fantasy XIV drama? Is this a show you want to watch, or are you not interested? What MMO do you think would make a good television show? Tell us below!
Source: Anime News Network
Articles Related to Final Fantasy XIV
Final Fantasy XIV Drama Series Coming to Japan
Final Fantasy XIV Nintendo Switch Release Being Considered
Final Fantasy XIV Introduces the Samurai; It's Not a Tank
Related:
Final Fantasy XIV
,
Japan
,
MMORPG
,
News
,
TV Series