Final Fantasy XIV: Heavensward is now live for players who have Early Access with the full 3.0 patch notes now available. It's time to go beyond the gates of Ishgard to see what lies ahead. Players without Early Access will need to wait until June 23rd but worry not, it won't be much longer.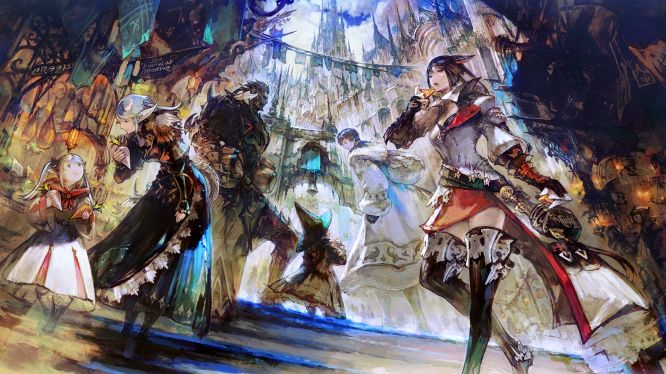 To celebrate Heavensward's launch, Square Enix are running a "Welcome Back to Eorzea" campaign for players who subscribed before March 31st, 2015 and have not logged in between April 1st and June 7th. Eligible players will be able to exchange silver chocobo feathers sent by Post-Moogle that can be exchanged for item level 120 equipment via the Calamity Salvager NPC in city-states during the campaign period to get them up to speed and allow them to pick up right where they left off.
In addition to this, Final Fantasy XIV Recruit a Friend campaign has been upgraded with new rewards for both recruiters and recruitees. Recruiters will earn gold chocobo feathers depending on game time purchased which will be exchangeable for rare dyes, an Amber Draught Chocobo Whistle, and a Twintania Neurolink Key, as well as a Fist Bump emote for the first friend recruited. The friend will receive the Fist Bump emote, 99 Aetheryte Tickets, and 10 silver chocobo feathers, as well as the Friendship Circlet.
For the video game music fans among you, as of Wednesday, August 26th, 2015 you can purchase "Before the Fall: FINAL FANTASY XIV Original Soundtrack," an album compilation of the game's music from patch 2.2 through to patch 2.5. Head over to the official soundtrack website for more information.
Lots of great stuff for the Final Fantasy XIV fan today!
Source: Final Fantasy XIV Lodestone 1, 2, 3, 4
Related:
Early Access
,
Event (In Game)
,
Expansion
,
Final Fantasy XIV
,
Heavensward
,
Launch
,
MMORPG
,
Music
,
Square Enix