While the last producer's letter offered a broad-stroke look at Final Fantasy XIV's Patch 4.2 content, today's official site posts offer a bit more information. Specifically, they detail new Beast Tribe quests, new content for The Feast PvP mode, and a sneak peek at the new Glamouring system.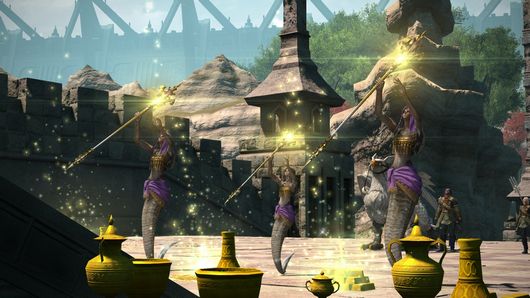 Patch 4.2 will bring the serpentine Ananta to the list of Beast Tribes players will get to do things for to earn reputation. While specifics on just what quests await players weren't shared, the post does promise "bizarre and perilous trials".
PvP players will get to do battle in a new Feast map known as the Crystal Tower Training Grounds, along with some new features intended to make battles move faster. The Feast will also introduce a Light Medal effect that reduces the amount of damage taken if the number of medals they hold is low, along with new features for teams of four or six players.
Finally, the Glamour Dresser was previewed which will be part of the new Glamour system being added in the patch. These dressers are located in inn rooms across the realm and let players convert weapons, tools and armor into glamour items to mix and match. Once an ensemble is created, players can save the look to a Glamour Plate which can be applied to your character's current equipment.
Our Thoughts
The posts in question were perhaps understandably thin on deeper specifics, but overall we like what we see with these new updates. After all, we all know that playing dress-up with your character is the real end game.
Source: official site
Articles Related to Final Fantasy XIV
FFXIV Plans New Houses and Tweaks PvP and Glamour in 4.2Echoes of Eorzea: Hevensturn Lore Part One and Two
Final Fantasy XIV's Rival Wings PvP is Totally a MOBA
Related:
Final Fantasy XIV
,
MMORPG
,
News
,
Patch 4.2