Final Fantasy XIV meshing different game types into its existing MMORPG isn't really news, especially considering things like the RTS-like Lord of Verminion or the in-game CCG Triple Triad. With the Rival Wings PvP mode, players can now totally add "MOBA" to the list of genres within genres.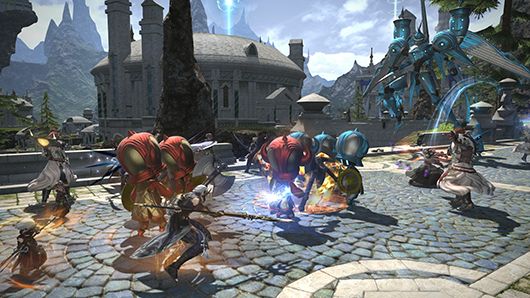 In Rival Wings, up to 48 players will be broken up into two teams: the Ravens and the Falcons. Each team has a primary core that is shielded by two towers, and must take down the opposing team's towers and core while simultaneously defending their own structures.
In addition to these usual MOBA-like trappings, players will also be able to summon and control immense machina by collecting ceruleum found along the field. Each machina is based off of bosses in the Alexander raids, and are either strong against players, structures, or both depending on which type is summoned as referenced during the recent live letter.
The new PvP mode will arrive with Patch 4.15, which is set to land on Final Fantasy XIV Tuesday, November 21st. You can check out some more in the brief preview on the MMO's website.
Our Thoughts
Arguably, XIV was already treading MOBA-like territory with the current Frontline PvP mode, so perhaps this is a natural progression. In any case, it will be interesting to see how many PvP players of Final Fantasy XIV will take to this upcoming new game type.
Sources: official site, official forums
Articles Related to Final Fantasy XIV
Final Fantasy XIV's Collab Event with FFXI Returns
Naoki Yoshida Addresses Final Fantasy XIV's Housing Problem
Echoes of Eorzea: Creating a Screenshot Gallery Site
Related:
Final Fantasy XIV
,
MMORPG
,
MOBA
,
News
,
PvP