Most of our favorite games are organizing events in this period for Halloween, and for the first time, you can participate in a spooky celebration in Tamriel as well! The Witches Festival will the the first in-game holiday event for The Elder Scrolls Online according to the official website, and it starts tomorrow, October 13 (or 13 of Frostfall, if you prefer).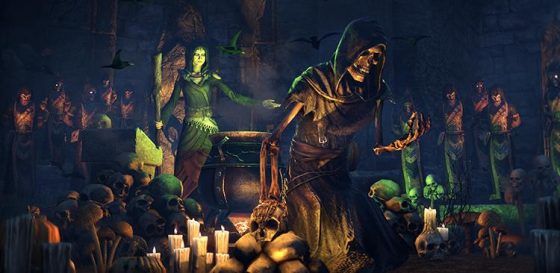 The Witches Festival is a clash of sorcery and religion that sees demonologists, conjurors, lamias, warlocks, and thaumaturgists convening in secret locations throughout the wilds of Tamriel to engage in all manner of incantations, invocations, and conjurations. Adventurers could choose to step aside and leave them be, but the creatures they create or summon may plague Tamriel for eons. Besides, there are all kinds of rewards and achievements in store for completing the special holiday activities.
To join in the festivities, players can acquire a free Crow Caller from the Crown Store. Using this item will give them "The Witchmother's Bargain" quest, which leads to obtaining the Witchmother's Whistle which summons The Witchmother's Cauldron. This item will polymorph players and group members for two hours into an Undead creature. Players can use it as many times as they like until November 1, but after the holiday ends the transformation will no longer be available.
While the Undead polymorph is active, killing boss monsters gives a chance to loot Plunder Skulls. Opening a Plunder Skull will reveal special Witches Festival goodies, including masks (equipped in the hat slot), special holiday Provisioning recipes, the Hollowjack crafting motif, and more!
Our Thoughts:
We're very happy to hear that The Elder Scrolls Online finally got its own Halloween event this year and we're looking forward to trying it out in-game to see what rewards we can get.
Your Thoughts:
Are you looking forward to celebrating Halloween in Tamriel? Let us know in the comments below!
Source: official website
Related:
Event
,
Halloween
,
News
,
The Elder Scrolls Online
,
Zenimax