It's here! The Warcraft movie premiered yesterday at Le Grand Rex in Paris and welcomed Warcraft movie audiences everywhere with a lot of surprises: some lucky moviegoers won prizes like posters, Funko Pop figures, or TCG card decks.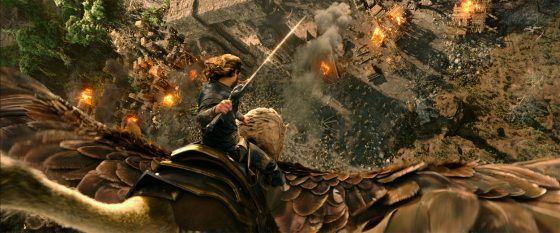 The first Warcraft movie reviews are also in, and perhaps unsurprisingly as per official critics' habits, they are not very positive as far as official sources go. The Wrap, Variety, Hollywood Reporter and Kotaku are pretty much slamming the movie at worst and frowning with disappointment at best.
But as we already know, there is only one opinion that really matters in this kind of situation – and that is the Warcraft universe's fans'. Opinions of Warcraft players or fans of the game universe from all around the world are much richer in positivity and praise than the official critics.
Reddit is already amassing a number of review threads, some spoiler-free, others not so much, and IMDB is featuring a 9/10 score for the Warcraft movie at the time of writing this piece. Fans are also posting their own reviews on blogs – for example this first Swedish review, or this French review posted after the Paris premiere.
Fans also flooded director Duncan Jones' Twitter feed with words of appreciation or photos from the premiere. Duncan Jones' extremely personal journey and quest that the Warcraft movie represented was recently featured in an article published by the New York Times.
So, what of those really critical official critiques addressed to the Warcraft movie? Rob Kazinsky, who brings to life Orgrim Doomhammer, explained it in a nutshell:
Overwhelmingly positive reviews from the public and game cultural critics. Can't please everyone though! #sameaspacificrim

— Robert Kazinsky (@RobertKazinsky) May 25, 2016
Finally, we think that the reactions of the audience after the premiere in Le Grand Rex say it all.
The official in-game rewards also went live as of yesterday. Players can now receive Bind on Account transmogrification rewards inspired by the movie by logging in between now and August 1. Apparently only one set of items is received per account, so don't delete yours and simply send it to an alt if you don't have any room left! Even if you delete them, the rewards are not lost, but will only be available for use again once the Wardrobe feature is added in Legion.

Our Thoughts:
Is there any doubt we couldn't be more excited to see the Warcraft movie as soon as possible? This is, we hope, only the first in perhaps a series of big-screen adaptations of the Warcraft universe, and although it may not be perfect, no movie ever is, and lessons can give way to an even better sequel.
In spite of the less than stellar official reviews, Warcraft fans know where it's at. The Warcraft movie will surely not disappoint the community judging from the initial reactions surfacing online as we speak, and, following Rob Kazinsky's wise words, it can always be sold to less knowledgeable audiences with kittens. Oh and war, yes, definitely war.
Are you going to see the movie? Drop us a line to tell us your opinions!
Lok'tar, champions!
Related:
Blizzard Entertainment
,
MMORPG
,
News
,
Review
,
Warcraft Movie
,
World of Warcraft