The 16th expansion for MMORPG Forsaken World is just around the corner. On January 20, Awakening will introduce a new map and increase the game's level cap.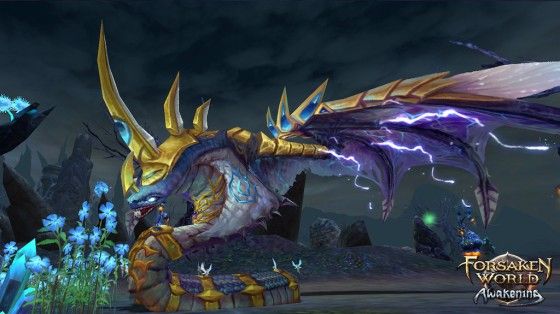 The Forsaken World: Awakening expansion will take players to the Ever Abyss, where they must battle their way to the River Styx. In the Ever Abyss, players will explore the depths of the underworld and battle dangerous new creatures. Additionally, there will be three new bosses scattered across the Ever Abyss and players will need to team up to take them down.
"After launching a successful counterattack against the Storm Legion during Vengeance, Eyrda's military forces push their way up the River Styx and encounter a magic seal that blocks their path. In order to continue their journey, they must help Ayrshi, the Rose Princess, who will grant them special light or dark awakening powers to break the seal. Adventurers must begin their quest at the source of the River Styx – the Ever Abyss."
Completing challenges in the Ever Abyss could earn players an Elemental Relic. These relics can be upgraded in a new gear slot in order to increase player attributes. They will evolve to become even more powerful if infused with a Relic Spirit. The player level cap has also been raised in Forsaken World: Awakening from 90 to 100.
Our Thoughts:
It's always exciting when a full-fledged expansion is released because it adds new levels, which means entirely new tier sets of equipment and usually new skills for each class.
Source: Perfect World Entertainment
Related:
Forsaken World
,
Forsaken World: Awakening
,
MMORPG
,
News
,
Perfect World Entertainment