Fortnite Battle Royale v6.10 has brought a couple of noteworthy additions to the proceedings of the online multiplayer shooter. Chief among them are a new quad bike built to blow through structures and a new Events option for the more competitive-minded players.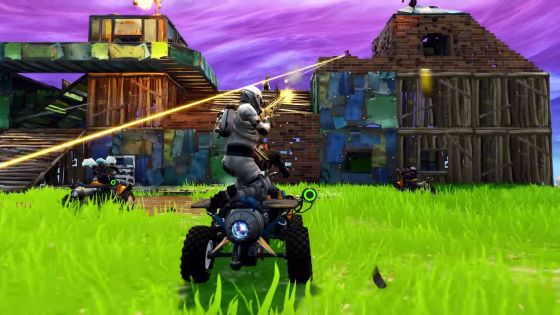 The appropriately named Quadcrasher vehicle is a two-seater that lets players tear across the map at high speeds and ram into structures presumably at will thanks to its plow blade mounted on the front and a bit of boost.
As for those online tournaments, those can be accessed via a new Events option in-game. Tournaments run on a set series of scheduled dates and times. Squads compete over several hours, earning points for surviving the longest or eliminating the most opponents, and squads will be matched against other teams with similar point totals.
Bear in mind, however, that these point totals don't carry over from event to event, as each tourney starts with a clean slate. Additionally, those interested in joining in to these events will have to agree to cross-play matches, meaning you'll likely face a keyboard and mouse player if you're on console.
There are also a number of changes such as the disabling of the Port-A-Fortress and a number of other fixes. The full patch notes can be read here.
Our Thoughts
We suspect it won't be long before people begin to complain that console players should not be matched with KB+M players in competitive, so we do hope there will be an option to break those segments up. Regardless, these additions do sound fun. Particularly that Quadcrasher.
Source: official site
Related:
Battle Royale
,
Fortnite
,
Fortnite Battle Royale
,
News
,
Patch
,
Update