Yesterday saw the free-to-play launch of the Fortnite Battle Royale Switch version, which is sure to be a big source of happy to sub-genre fans. But does that mean that Save the World is headed to the platform? Apparently not, according to a representative from Epic Games.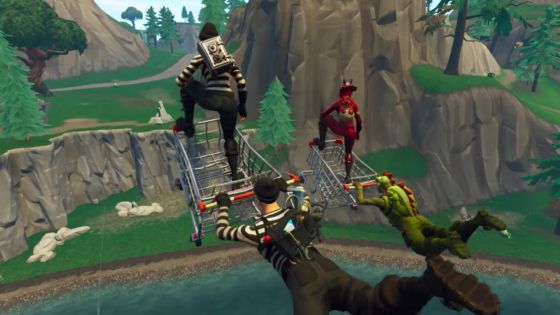 According to a report from GameSpot, the Switch will only be getting Battle Royale while Epic Games has "no plans for Save the World on Switch." The statement in question appears to be pretty firm on the matter, with no other immediate hints that plans will deviate.
In other Switch-related Fortnite news, players who first started their royale battling life in the PlayStation 4 or shifted accounts from one platform to PS4 are finding that they're unable to transfer their Epic Games account over to the Nintendo Switch. This essentially means any progression, items or other goodies associated with that account will not carry over.
The block stems from Sony's decision to not play ball with other platform editions of the same game, even though the Switch version allows cross-platform play with PC, Xbox One and mobile. As one would expect, fans are none too pleased.
Finally, Fortnite is revealing details of its 2018-2019 competitive season, which is all tied to the 2019 Fortnite World Cup. Epic Games has several planned esports events for the shooter, which all tie in to the World Cup as well as Epic Games' sizeable investment in esports. A video detailing this new esporting push is available for viewing below.
Our Thoughts
Whew. Lot to unpack here. First of all, we continue to say that blocking cross-platform play features is one of the most insipid decisions ever. Second, we want to wish luck to those who are taking part in any esports events associated with the 2019 Fortnite World Cup. Finally, it's probably about time for Epic Games to just officially announce that they're not going to work on Save the World already. Just…rip the Band-Aid off, refund the money of those who want it, and get it over with.
Sources: Gamespot, The Verge, official site
Articles Related to Fortnite
Fortnite Adds a Shopping Cart Vehicle to Battle Royale
PUBG Taking Fortnite Battle Royale to Court in South Korea
Epic Games Throws its Wallet at Fortnite Esports
Related:
Battle Royale
,
eSports
,
Fortnite
,
Fortnite Battle Royale
,
News
,
Nintendo Switch