Studio Wildcard will be rolling out free updates for the PC and Xbox One versions of ARK: Survival Evolved over the next few months, adding what they call a "gamechanger" to the otherwise primal survival adventure game. The ARK TEK tier update will be adding sci-fi endgame crafting rewards that will pretty much turn upside down the world of ARK as we knew it so far.
The ARK TEK tier update means players will be able to get sci-fi armor, weapons, and structures. The enhancements revealed so far include carrying plasma rifles and adding TEK saddles with mounted energy weapons to dinosaurs. The TEK goes even further, since it appears players will be able to build fully protected structures immune to the usual hazards, such as a vacuum sealed underwater base.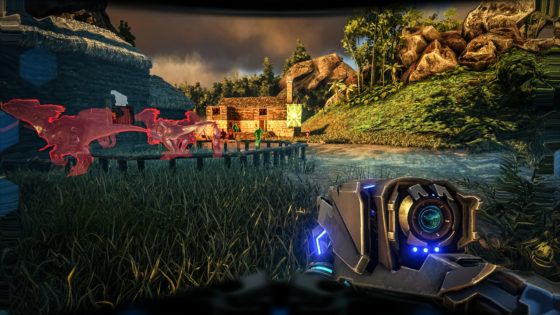 Studio Wildcard will start adding the TEK tier to ARK: Survival Evolved in December. The TEK tier update is free for ARK: Survival Evolved players.
You can watch the trailer below for a preview of what's coming to the game with the ARK TEK tier.
Our Thoughts:
We're a bit divided on this. On the one hand, this is very far from what we would have expected to see in an update for ARK, but on the other hand dinosaurs with lasers is pretty much the coolest thing ever. Whichever way we take it, the TEK gear will indeed change the world of ARK, and not everyone might like this sudden change of theme.
Your Thoughts:
What do you think about ARK's newest update? Does it fit with the world of ARK or is it too much? Let us know in the comments below!
Source: press release
Related:
ARK: Survival Evolved
,
News
,
Sci-Fi
,
Studio Wildcard