Only the truly 1337 need put in a pre-order for a limited edition Frigates of EVE art book. The book, created by Dark Horse Comics and CCP Games, is offering a strict (and clever?) supply of copies for the collectible.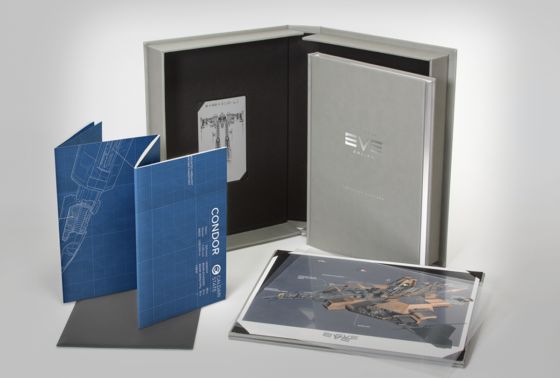 The Frigates of EVE book features 160 pages of cross-sections of some of the sandbox MMO's most popular frigates, along with extended backstories behind the creation of each frigate and the technologies they use.
The limited edition of the book includes a clamshell case, a commemorative art plaque, redemption codes for in-game items, a portfolio with a lithograph of a Minmatar Probe frigate, and a cloth blueprint of a Caldari Condor frigate.
The Frigates of EVE book is being offered to the UK at $83.99, the EU at $102, and to the US and the rest of the world at $79.99. As a result of anticipated high demand, all other items offered on the EVE Shop are being taken offline for 24 hours. The books will ship on June 6th.
Our Thoughts
We really love the ships of EVE Online and we are definitely intrigued by the book. While the tongue-in-cheek number of printings for this particular version might induce a bit of eye-rolling, we also have to figure that it wouldn't be a limited edition if it wasn't limited in some way. We'll just wait until the standard edition goes to print.
Source: official site
Articles Related to EVE Online
Games Like EVE Online
EVE Online Propels CCP Games Profits
Free-to-Play Finder: EVE Online's Free-to-Play Ascension
Related:
Book
,
EVE Online
,
Merchandise
,
News