Blizzard had an exclusive press conference at Gamescom 2015 today, focusing on Hearthstone, Heroes of the Storm, Overwatch, and Starcraft 2. While there was no live stream for this one, we were there.
Hearthstone
The conference began with some Hearthstone, who recently revealed their next expansion will be The Grand Tournament. And the biggest reveal here was the introduction of a jousting mechanic, in which a minion is pulled from each player's deck and the minion with the highest mana cost wins. If you win the minion "joust", you get a reward depending on the card that initiated the joust. This expansion will arrive later this month.
Blizzard are also going to be adding in benefits for higher rank players to help recognize their achievements in Hearthstone. The game will reward you for the highest rank you have earned in Hearthstone that month and the higher ranked you are, the better the chances of loot and of obtaining the treasure chest which can contain golden cards and arcane dust based on your rank.
Heroes of the Storm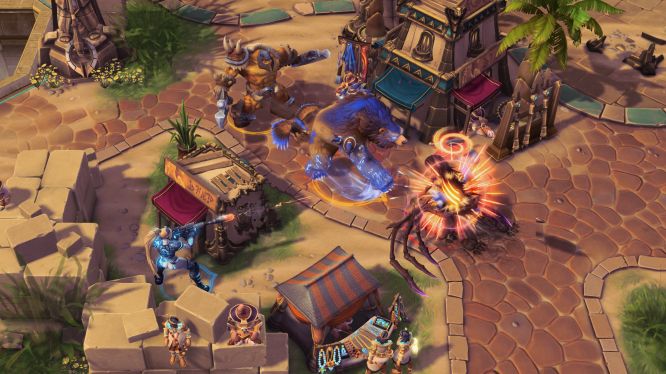 Heroes of the Storm had some pretty cool reveals themselves with the announcement of three new heroes and a new battleground! We can expect to see Kharazim, the Monk from Diablo 3, Rexxar from Warcraft (Misha included, yay!), and Artanis from Starcraft. And the new battleground will be Infernal Shrines, a second Eternal Conflict map inspired by Diablo 3. This map will feature three shrines that periodically gather power and teams will be able to unleash this power by activating a shrine, defeating its guardians, and summoning a Punisher to fight for them.
What's more, there will be more from Heroes of the Storm on Friday including another hero reveal.
Overwatch
We also got some more details on Overwatch, including a character reveal and two new maps. The newest character reveal introduces Lucio, a DJ from Rio de Janeiro who rides around on roller-blades and can run along walls. He also plays a pair of songs. One heals him and his teammates, and the other boosts movement speed. He also releases an area-of-effect sound barrier which acts as a protective healing shield to the people around him. So basically, he's kinda like a Bard, in a sense.
The maps revealed during the conference are Volskaya Industries, a large building featuring offices and a giant mech factory in a snowy Russian town which is a nice straightforward Point Capture map. And Numbani, a technologically advanced African city with open streets, small interior spaces, and futuristic skylines which will be a hybrid Point Capture and Payload map.
World of Warcraft
Of course there was nothing new from the World of Warcraft part of the presentation, just an introduction and a reminder that the new expansion will be announced tomorrow at 6pm CEST. Blizzard, you teases, you're killing us here!
Related:
Blizzard Entertainment
,
Gamescom
,
Hearthstone
,
Heroes of the Storm
,
News
,
Overwatch
,
Press Conference