Activision revealed at Gamescom 2016 a new co-op mode for the upcoming installment of the Call of Duty franchise! The new Call of Duty: Infinite Warfare Zombies in Spaceland mode features a 1980s theme park setting and puts players in the shoes of four aspiring actors, all of whom have come to a movie theater for an audition via invitation by director Willard Wyler (voiced by Pee-wee Herman actor Paul Reubens).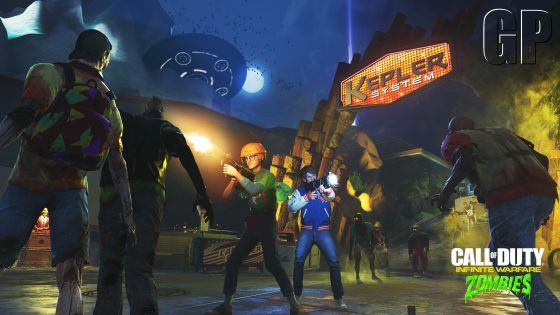 The four players will be transported into Wyler's movie, set in the 1980s, and find themselves transformed into that decade's archetypes: the jock, the nerd, the valley girl, and the rapper. Together, they will fight against waves of zombies in an '80s space-themed amusement park.
The voice actors behind the four playable characters include Robot Chicken's Seth Green, Suicide Squad's Ike Barinholtz, Saturday Night Live's Sasheer Zamata, and SNL alum Jay Pharoah. Baywatch's David Hasselhoff has also lent his voice to the game as the theme park's DJ.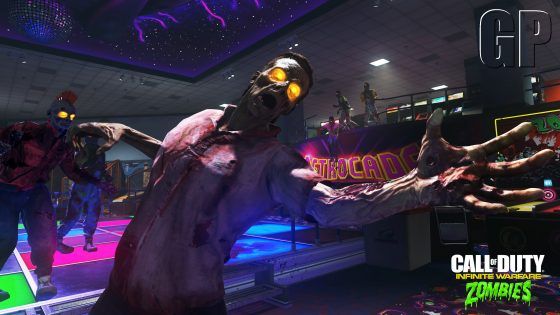 You can watch the Gamescom 2016 reveal trailer for Call of Duty: Infinite Warfare Zombies in Spaceland below:
Call of Duty: Infinite Warfare, which will release for the PlayStation 4, Xbox One, and PC on November 4. Players who pre-order the game will receive a Zombies in Spaceland pack of in-game digital items, including zombies weapon camo, a zombies reticule, an animated zombies calling card, and a Fate & Fortune card park, as well as the bonus Terminal multiplayer map that was revealed during this year's San Diego Comic Con.
Our Thoughts:
Zombies, the '80s, and The Hoff himself. What could go wrong?  As far as we are concerned, this is definitely a fun reveal and even those less fond of shooters among us are pretty thrilled to try it out!
Your Thoughts:
What do you think about Call of Duty: Infinite Warfare and its newly revealed '80s zombie shootout mode? Let us know in the comments below!
Source: press release, IGN
Recent Articles Related to Gamescom 2016
Gamescom 2016: Titanfall 2 First Impressions
Gamescom 2016: Battlefield 1 Hands-On
Gamescom 2016: Metal Gear Survive Arriving in 2017
Gamescom 2016: Titanfall 2 Open Beta Dates And Features
Related:
Activision
,
Call of Duty
,
Gamescom
,
Gamescom 2016
,
Multiplayer
,
News