With Gamescom 2017 slowly making its way to Cologne in August, the folks behind the event want to spread a message of "versatility, liveliness and colour". To that end, this year's Gamescom will be focusing on what it refers to as "the heart of gaming" and the concept of variety.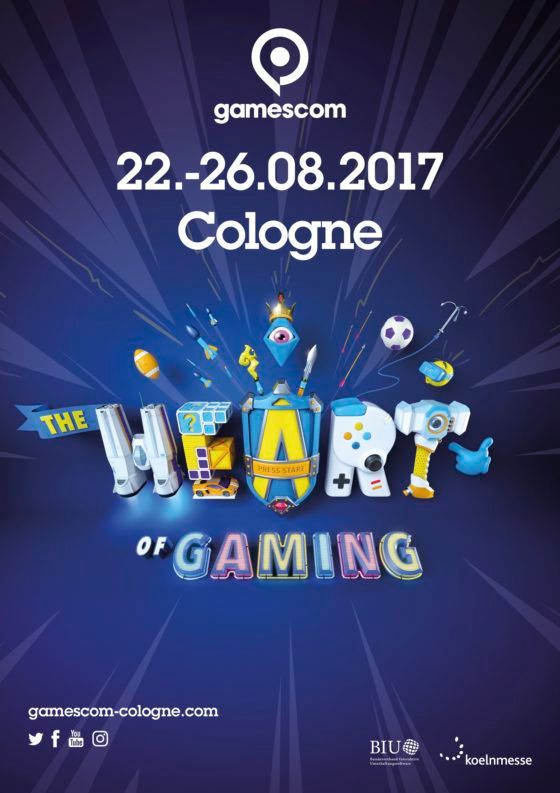 "Like no other event, Gamescom reflects the entire bandwidth of the medium," explains German Federal Association of Entertainment Software head Lars Vormann. "Both games and Gamescom live from diversity and passion, and we want to express both with our new presence. No other event in the world focuses so intensely on games in all their facets, thereby itself becoming the 'Heart of Gaming'."
To that end, the Heart of Gaming tagline will feature prominently in all announcements and other media for the event. The idea, according to the release, is to illustrate the broad swath of gamers, developers and fans Gamescom draws in. "It is this year once again our goal to make Gamescom the most important event of the year for the community, and it is precisely here that our new brand presence comes into effect," says Koelnmesse marketing VP Jochen Dosch.
Gamescom will run on new days this year, from Tuesday, August 22nd to Saturday, August 26th. Tickets for the event can be found here, and a promotional video for the event can be seen below.
Our Thoughts
Let the hype for Gamescom commence! This year's event is certainly looking like an exciting one at the interim, but the big question we hope to have answered soon is "What MMO titles will be on hand?" Once we get word of what and where we'll be sure to pass it along!
Source: press release
Articles Related to Gamescom
MMOGames Best of Gamescom 2016
The Elder Scrolls Online Tavern at Gamescom Talks One Tamriel, Lockboxes
Overwatch Atlantic Showdown Champions Decided at Gamescom 2016
Related:
Convention
,
Event (Real Life)
,
Gamescom 2017
,
Gaming
,
MMO
,
MMORPG
,
News