In a surprise announcement made today, Gazillion has unveiled Marvel Heroes Omega for console, bringing the highly popular free-to-play MMOARPG to the PlayStation 4 and Xbox One as well as offering a sneak peek at what players can expect.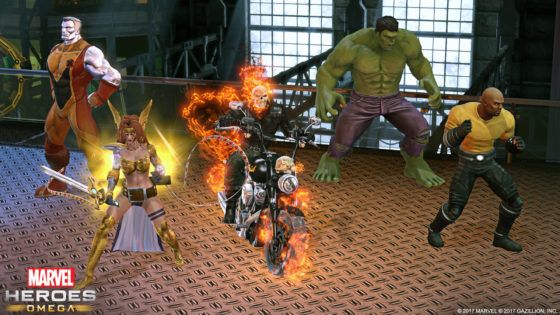 The reveal written on the PlayStastion Blog introduces players to the concept of Marvel Heroes, describing the game and offering a rundown of what will be on offer:
"Marvel Heroes Omega doesn't really fall into typical genre categories. It draws inspiration from both action-RPGs and MMOs, making it a truly unique blend of non-stop action and near limitless progression!"
A Q&A posted on the game's official forum has also offered up a number of new details for the release. The game will launch with chapters 1 through 9, Operations, the Danger Room, the Midtown Patrol area, Legendary Missions, and Heroic, Superheroic, and Cosmic Trials. According to the post, the game will arrive with less content than the PC version to "ensure the best possible experience on console at launch". Regular updates are planned, however.
It was also confirmed that PC and PS4 players will not be able to play together, and the Xbox One version will be arriving later as a result of Gazillion's small size requiring the delay. "While we like to think big at Gazillion, the fact of the matter is that we are a comparably smaller studio. Staggering our releases on PlayStation 4 and Xbox One will ensure we deliver the best possible experience for players on both platforms."
Closed beta for Marvel Heroes Omega is due to begin sometime soon, with open beta on the PS4 due sometime in the Spring. The complete Q&A can be read here, and an announcement trailer can be seen below.
Our Thoughts
Whoa! We were definitely not ready for this! MMOARPGs, arguably, play a lot better on a controller, and we're always in support of consoles getting more MMO options. To say we're excited for the release of Marvel Heroes Omega is an understatement!
Sources: PlayStation Blog, official forums
Articles Related to Marvel Heroes
Marvel Heroes Introduces Black Bolt to the Roster
Beast and Jubilee Join the Marvel Heroes Roster
F2P Kingdom: Marvel Heroes Free to Play is The Best System Ever
Related:
Console
,
Marvel Heroes
,
MMO
,
MMOARPG
,
News
,
Playstation 4
,
Xbox One