Gearbox Software have issued a new Battleborn DLC plan that details what will be coming next for the first-person MOBA/action title.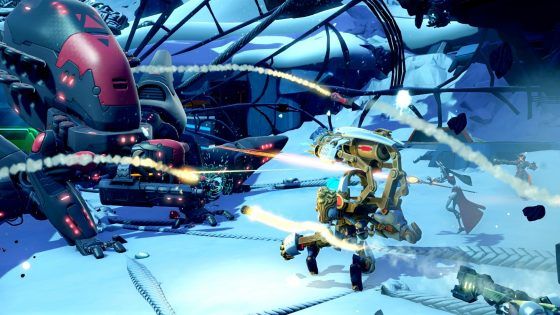 Due to several requested game features taking new priority, the next bit of DLC coming to Battleborn is taking longer to arrive than expected admitted the post in its opening. Regardless, the game has a full outline of what's next in the coming months.
Free DLC scheduled to arrive includes three new heroes – Ernest, Kid Ultra and "Battleborn #30" – and two new PvP modes, while Premium DLC includes several new Story Operations and early access to the 29th and 30th members of the Battleborn roster. Some marketplace content which includes skins, taunts and XP boosts are also due to arrive on a monthly basis.
The post then goes in to greater detail on Story Ops, which will be solo or duo-friendly side-missions that offer insight in to the lore of Battleborn's heroes and offer rewards for multiple playthroughs. There was also detail on one of the two PvP modes coming; Face Off, which sees two teams try to take down an invading Varelsi force, take their masks and deposit them for points. The first team to 500 points wins.
The first Story Op and Face Off PvP mode will release on October 13th, Ernest is set to release on September 1st, and future DLC is slated to release later in the Fall and Winter. Those who are already Season Pass holders or Digital Deluxe buyers will have complete access to all coming Story Operations. Otherwise, each Story Op will cost $4.99.
Details on the first Story Op and future content will be offered during PAX West, as well as streamed from the game's Twitch page. The outline for future content can be seen on the Battleborn site.
Our Thoughts
Despite the underwhelming launch of Battleborn and its population bleed, Gearbox Software is still churning away and planning content release for those who still play, and we have to admire that. The coming DLC for Battleborn sounds like a lot of fun, and who doesn't want more heroes and missions to play with?
Your Thoughts
Are you still one of the players enjoying Battleborn? What do you think of the new incoming DLC? Tell us what you think in the comments.
Source: Official site
Articles Related to Battleborn
SuperData Expects Battleborn Transition to Free-to-Play
Battleborn Play Count Begins to Flatline
Comparing Battleborn and Overwatch for MMO Players
Related:
Battleborn
,
DLC
,
News
,
Update