Not too long ago, it was announced that development studio Motiga, the studio behind Gigantic, had to lay off off a number of employees and that the game was delayed. Now James Phinney talks a little bit about how the company's moving forward and what's next for Gigantic. Let's first go over the road that Gigantic has already traveled.
The Road Gigantic Traveled so Far
In some ways, 2015 was a great year for Gigantic. The game moved from alpha to closed beta, and the number of people who are playing the game has been greatly increased. At the same time, the entire studio transitioned for parallel Windows 10 and Xbox One development. These sorts of changes require lots of careful planning and it was incredibly tough, but they made it through! Gigantic is running on console now, and the game has gotten better day by day.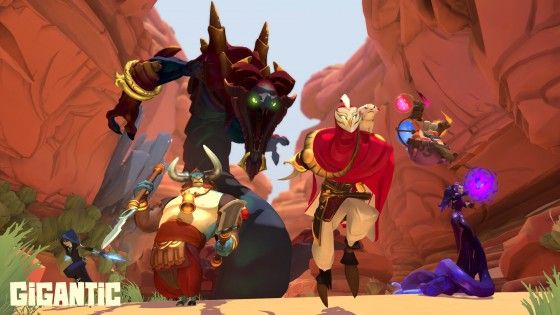 Throughout the year, lots of feedback has been gathered from the ever-involved testing community. This, and having some glimpses of competing games, has pushed Motiga to re-examine the many incomplete and imperfect parts of Gigantic and they're promising to do better in the future.
Gigantic's Guiding Vision and Challenges
The vision for Gigantic hasn't changed, and the developers believe they're making something truly unique and special. The plan is to have a combination of unique playable heroes, dramatic battles, and massive guardians. Gigantic is a game of teamwork and player skill, of dynamic action and strategy, and of fierce combat and joyful movement. Yes, it's a shooter MOBA designed to let gamers of different backgrounds play together, but it's also intended to hold up to serious competitive play.
In the last month, however, Motiga faced some very difficult choices. A publishing team had been built up within Motiga in order to prepare for Gigantic's release, but with the release date pushed to 2016 and funds short, some people had to be laid off. The game development has been kept fully staffed and is moving forward at full speed, but in order to do that a lot of awesome people had to be let go. The game was also delayed
What's Next
Early next year, the fruits of the continuous labor will be shared, with the release of a new beta build. Thousands of new will be invited to join the Gigantic closed beta as well. This'll be the first beta build of Gigantic as a Universal Windows Application, and will mark the long awaited return of parties to the game. You will sign in using your Xbox Live account on both Windows 10 PCs and Xbox One consoles, and you'll be able to invite your friends to join you to play Gigantic together.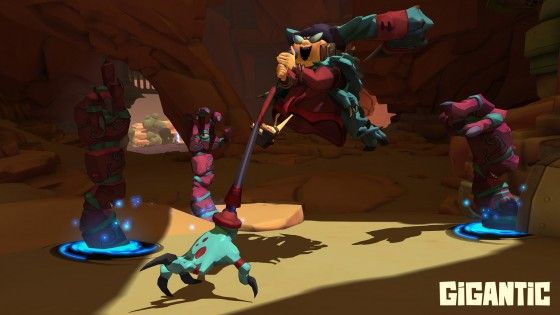 This huge update will bring with it many additions and improvements to the game:
Improved matchmaking algorithms that do a better job creating balanced teams. (Of course, this will mean longer wait times for you if you use the new party mechanics to make a super-team. We don't want you core guys steamrolling new players!)

Major changes to the way power is generated for Guardians for more interesting and competitive matches. We've focused the game on active play by rewarding more power from kills and a new power orb mechanic and less on passive factors like power generation from creatures.

Big content updates, including a second map (Sanctum Falls, formerly known as "MistForge"), a new hero, and a new summonable creature. The naga guardian Grenn will also be showing off new and improved visuals and abilities.

The first parts of our account progression system, where we're working to make it fun to earn and unlock rewards as you play. This version is just a first iteration, but I think you'll see we've designed a reward system that is fun and complements the overall play experience.

Numerous gameplay adjustments to improve playability. This includes a lot of work to bring joy back into moving around in Gigantic, with reduced stamina costs for sprinting, the removal of penalties for jumping when out of stamina, and much simpler, cleaner collision in our maps.
That is just for the first update of 2016 too! As the year progresses, players will see much more content. Early in the year, Gigantic's third map, Siren's Strand, will be made public.  More and more heroes will be introduced as well, and we'll see the return of Roland with his shotgun and grappling hook. New families of creates to summon will be added, an distinctive strategic options will be offered as well.
The game still requires a tremendous amount of polish, such as fixing camera shakes and impact sounds. A massive UI reboot is on the horizon as well, and Guardians will be playing a more active role once again sometime in the next phases of the game. For more information, make sure you head over to the official Gigantic website!
Vote Here
Make sure you vote for Gigantic in the MMOGames Best of 2015 polls! Gigantic has been nominated for the following categories:


Our Thoughts
We have been buzzing with excitement about Gigantic ever since it was announced, so it was a bummer when they announced that the game would be delayed. "What happened to Gigantic?" was a frequently asked question in the MMOGames team, but with this update we have once again been re-assured that Gigantic will be released to the best of its potential. Though Motiga has faced lots of challenges this year, they're truly creating something special. With the faith of the community to keep them sane, they'll surely make it out on top with a fantastic game.
Source: Gigantic Official Website
Related:
Closed Beta
,
Development
,
Gigantic
,
MOBA
,
Motiga
,
News
,
Update