It's been a long and bumpy road for Motiga Games, but all of that work is about to pay off. We now have an official Gigantic release date for every platform the upcoming shooter/MOBA is currently on; PC, Steam, Arc, Xbox One, Windows 10, Colecovision, Sega Saturn…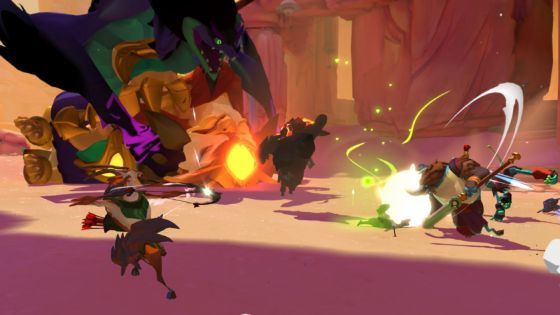 We're being facetious, of course, but the news is indeed still correct: Gigantic is going to go live all at once on Thursday, July 20th. The stylish MOBA has also opened up its open beta doors to Arc players as of today, granting players on every current Windows platform their chance to check out what Gigantic is all about.
The Arc open beta arrives with several new features to Gigantic that launched during the game's Arc weekend, including bot matches to help players practice, in-game voice chat, and a revamped learning experience for new players.
In celebration of Gigantic's last month of beta, login and play bonuses are being offered to all players. Arc players who login and play at least one match will get an Arc Lightning skin for Tripp, while Xbox One and Windows 10 players who login and play a match get the Excelsior skin for Tyto.
For more information about Gigantic's open beta for Arc, check here. You can also find details on how to copy your Gigantic account cross-platform here and check out the Arc open beta announcement trailer below.
Our Thoughts
As we've reported over the course of these past couple of years, the road to launch for Gigantic has been one of ups and downs. We are delighted to see all of that effort finally come together in a final product, and hope MOBA fans will find a lot to love in Gigantic.
Source: press release
Articles Related to Gigantic
The Eternal Dawn Rises in Gigantic
Gigantic Exile in the North Update Launches
A Gigantic Preview
Related:
Gigantic
,
MOBA
,
News
,
Open Beta
,
Release Date