In 2015, eSports is an industry giant. There is no denying that. League of Legends tournaments are major news, prize pools for others are in the millions, then we have Heroes of the Storm tournament coverage on major television networks and it's little wonder that it has now been revealed that the worldwide eSports market has reached 134 million viewers in North America and Europe! This includes people watching online and attending real life tournaments.
This image showing the worldwide market for eSports by region is perhaps unsurprising, showing Asia being the most lucrative by quite a margin – an area where eSports has perhaps had more time to grow in popularity, but it's still crazy to look at these numbers in the millions.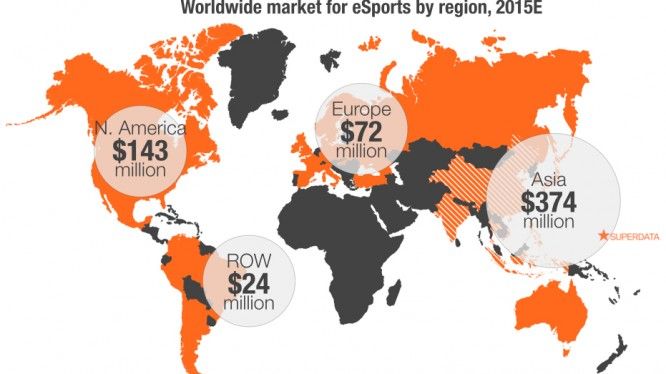 Participants in eSports include game publishers which range from shooters like Call of Duty and Counter Strike: Global Offensive to, of course, MOBAs such as League of Legends and Smite. Then there are the competing teams, the leagues that host competitions and allow for corporate sponsorships and eSports betting. The platforms that make it all possible, with Twitch being perhaps the largest, but other platforms giving eSports an online venue as well. And of course, brands which – like in any given sport – pay teams, league organizers and publishers in exchange for displaying their logos, products, or even naming a competition, and you know something's getting big when Red Bull get behind it. However, eSports wouldn't be as big as it is without the audience, which according to Superdata now amounts to a massive 134,287,236 viewers worldwide – and growing!
This report from Superdata also concludes that the eSports market is still dominated by Korea and China, though with the continued investment by digital-only publishers in North America and Europe overall growth is constant, with 13% of livestream viewers regularly watching eSports, and almost half of eSports viewers in the US watch via Twitch. The report details that competitive gaming is not a revenue driver but in fact a marketing strategy and corporate sponsorships total $111 million in North America in 2015, and this is only expected to grow over the coming years.
Source: Superdata Research
Related:
eSports
,
Financials
,
News
,
Research