A recent Gloria Victis dev update has offered up some new information for those watching the in-development sandbox MMO. This time around, the devs are working on improvements to how settlements are upgraded and showing off some new in-progress longsword animations.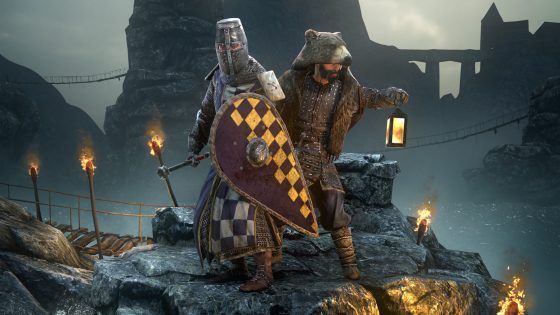 Settlements will soon be able to upgrade their main tower, and build and upgrade crafting workshops for players. Guardhouses, lumber mills, farms and mines will also show visible changes in their appearance when they are upgraded. The settlement adjustments are only being applied to existing locations currently, but the team expects that being able to create new settlements with the new changes will come along much faster.
Gloria Victis also has a new trailer showing off some new combat animations for the longsword weapon. The animations are created by veteran animator Jakub Kisiel, whose credits include animating Geralt in The Witcher 3: Wild Hunt. The new longsword combat motions are not in-game yet in order for the team to polish and implement them, but you can see how things are progressing on that front by watching the video below.
Our Thoughts
So far so good for Gloria Victis! The new animations look quite good, and the adjustments to settlement upgrades should mean that player-owned regions will become a little more secure and enticing to others. We're looking forward to hearing more developments!
Your Thoughts
What do you think of the new longsword animations? Are you pleased with the changes settlements will be going through? Tell us in the comments.
Source: press release
Articles Related to Gloria Victis
Gloria Victis Shares New Animations and Other Adjustments
Gloria Victis Steam Early Access and Updates
The MMO Alpha and Beta List: December 9, 2016
Related:
Gloria Victis
,
News
,
Sandbox MMO
,
Video