Gloria Victis' massive UI overhaul takes a big step forward with today's release of a much anticipated update. Patch 0.5.6 implements numerous gameplay improvements and fixes, as well as the first version of the dynamic events system, a new version of the game's launcher, while marking the beginning of an ongoing, progressive rework of the starting locations. So, what does this mean for Gloria Victis players?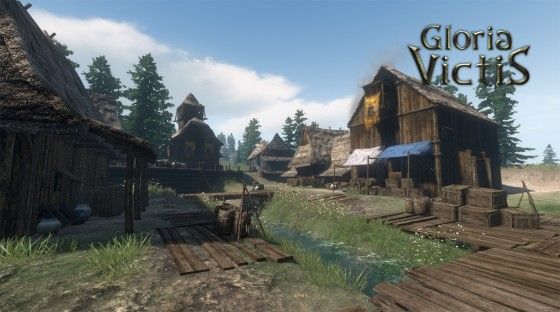 Dynamic events are to significantly increase the credibility of the game universe, and will smoothly introduce the new players into the Gloria Victis world, helping them to learn the gameplay mechanics, and allow the players to affect the situation of the game world. The first such dynamic events, introduced by this update, were placed at the outskirts of Dunfen and Mereley. A few examples include foxes sneaking to hunt chickens, outcasts stealing supplies and rebels oppressing the townsmen.
In order to garner a better first impression over new players, the starting areas of Mereley and Dunfen, as well as their suburbs areas, will progressively be redesigned and filled with dynamic events. The current update introduces an entirely new location, fishing docks to the West of Mereley. Finally, the patch also applies a new version of the game's launcher, which resolves most of the problems that players had been encountering when downloading or updating the game. Consequently, it is expected that player population will rise significantly in the nearest future.
Our Thoughts:
Gloria Victis has come a long way since its initial stages, and the recent updates have greatly improved the user experience. The redesigned starting areas and new launcher will surely make the user experience more attractive for both current and new players, and will help boost the number of users in the long run. We will definitely keep following Gloria Victis' progress!
Source: changelog v.0.5.6
Related:
Alpha
,
Gloria Victis
,
News
,
Patch News
,
Update