The latest update to the third-person MOBA Paragon brings a new hero, support character balances, and more ways to earn cards.
The newest hero to join the ranks in Paragon is GRIM.exe, who is a ranged-carry with all sorts of tricks up his sleeve. His passive, Overcharge, allows GRIM.exe's Pulse Cannon to periodically shred the enemy's armor while Suppression Mode keeps the enemy locked down with an on-hit slow. Deflector Shield makes sure enemies won't get the upper hand from afar and Displacement Blast keeps melee attackers at bay. Finally, his ultimate, G.T.F.O., fires a high-damage Gyro Targeted Force Orb that homes in on the target.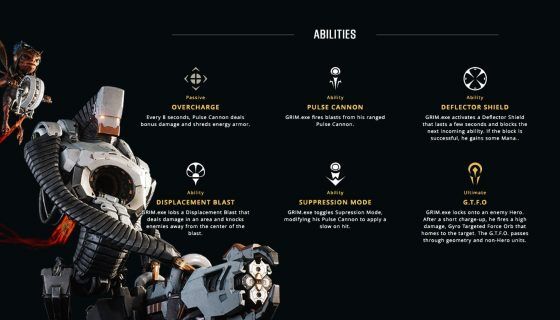 In addition to the new hero, support characters have also receive a few tweaks. There have been major balance changes to Gadget, Dekker, and Muriel. If you happen to main one of these heroes then be sure to look over the complete patch notes here.
In order to give players incentive to keep progressing, new rewards are being handed out after reaching specific levels. Players who have already obtained these levels will receiving a large amount of reputation as compensation.
Updated Account Progression Rewards:
Level 8 – 1 Card Pack
Level 10 – Large Rep Reward (18750)
Level 11 – 1 Card Pack
Level 17 – 1 Card Pack
Level 20 – Large Rep Reward (18750)
Level 23 – 1 Deck Slot
Level 25 – 1 Deck Slot
Level 28 – 1 Deck Slot
Level 30 – Large Rep Reward (18750)
Level 32 – 1 Deck Slot
Our Thoughts:
Paragon manages to offer something a little different to the MOBA genre with its third-person perspective and vertical terrain, but it still follows the same formula. Whether it has enough different to draw crowds away from the current popular MOBAs, we'll have to wait and find out.
Source: Epic Games
Related:
Early Access
,
Epic Games
,
MOBA
,
News
,
Paragon
,
PvP