Do you recall last year's Chimes fanzine project? Members of that same GW2 Artist Collective are at it once again with another bit of artistic philanthropy in the form of the Tyrian Tarot, a full tarot deck with unique Guild Wars 2-themed art that's looking to raise money for a new charitable cause.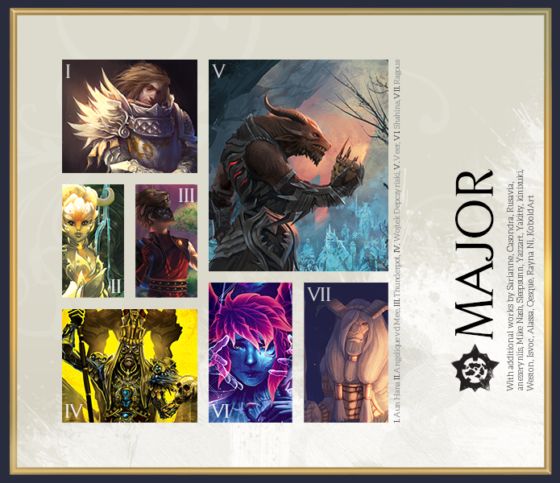 The Tyrian Tarot is a 78-card deck with an unlockable 24 wild cards featuring artwork from 68 different artists. The full physical deck will arrive to pledges in a two-piece, gold foil-accented box, along with a 200-page guide book in PDF or physical format should the project meet the appropriate stretch goal.
Proceeds from this campaign are going to the International Fund for Animal Welfare, a non-profit focused on global wildlife protection. According to the funding breakdown on the Indiegogo campaign page, about 20% of the proceeds raised from this drive will go to the charity, though that margin will go up if the project sees increased deck and print orders.
As of this writing, the project has exceeded its original funding goal of $14,499 and is well on its way to its next stretch goal of the physical guide book and beyond with about a month left to go. Complete details are available at the Indiegogo link above or by watching the brief video below.
Our Thoughts
We definitely offer our support and delight to the artists involved in this latest charitable fundraiser and hope that there are lots of people who would love physical artwork based on Guild Wars 2, just like to collect tarot cards, or are even interested in tying tarot reading and love of Guild Wars 2 together.
Source: Indiegogo via Guild Wars 2 official site
Articles Related to Guild Wars 2
Guild Wars 2 Confirms the Friend/Ships Giveaway Winners
Gathering Gets Glyphs in Guild Wars 2
Guild Wars 2 at PAX East: Fueling Community
Related:
Charity
,
Community
,
Guild Wars 2
,
MMORPG
,
News