Halloween is making its way back to Guild Wars 2 in familiar fashion. The Shadow of the Mad King 2018 has gotten new details, including its release date and what's returning and what's different for this year's spooky season.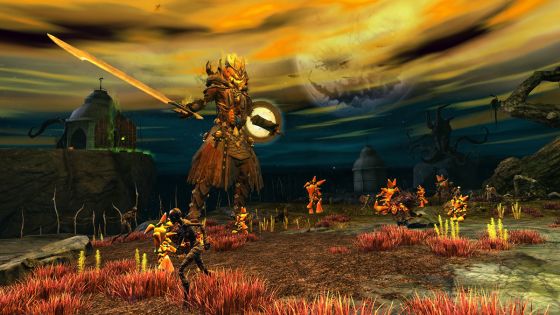 Naturally, players can expect the jumping puzzle mayhem of the Mad King's Clock Tower and trick-or-treat farming in the Mad King's Labyrinth, but also coming back this year is the Reaper's Rumble PvP mode where players try to recover pumpkins and spawn skeletons to assault the base of the opposing team.
New for this year's event is the Mad King's Raceway, a race course built in the Reaper's Rumble map that lets players race one another aboard the popular Roller Beetle mount. There's also a new collection achievement for lore hounds that have completed the Living World Season 4's third episode, which details the rivalry between King Thorin and Palawa Joko.
Finally, three new weapons designed around popular horror movie tropes are being added: The Cure, a syringe skin for the dagger weapon; a lightning rod sword skin called The Conductor; and an axe-sized butcher knife called Revenge.
The deliciously creepy event will kick off Tuesday, October 16th and will run until Tuesday, November 6th.
Our Thoughts
Seriously, the style of this event is pretty top tier, and we're definitely glad to see something new come to this year's festivities instead of just a retread of everything prior. Here's to a happy Halloween in Tyria!
Source: press release
Related:
Guild Wars 2
,
GW2
,
MMO
,
MMORPG
,
News
,
Seasonal Event