YouTube content creator Deroir politely attempted to reach out to Guild Wars 2 writer Jessica Price in order to have a discussion about character development in MMORPGs. Instead of either engaging him in conversation or simply dismissing Deroir, Price decided it was more appropriate to publicly attack him and then go on a tirade about what it's like as a female in the video game industry.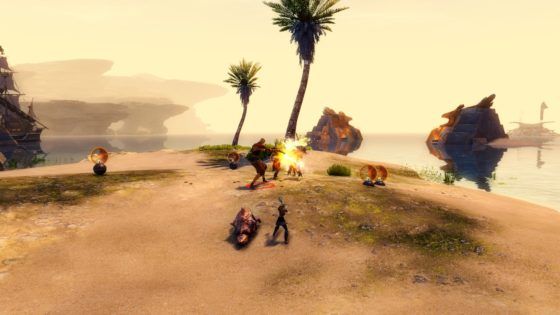 While it's not uncommon for game developers to tell off an angry critic or two (or hundreds), it was very apparent that Deroir was not attempting to attack Price. Instead, he was just responding to a comment on the very public platform of Twitter regarding a Reddit AMA (ask me anything).
Deroir is a mildly popular YouTuber who mainly focuses on content and guides for Guild Wars 2, and he seems relatively well-received by the community. After Price dismissing him as a "rando asshat" who got his "manfeels" hurt, the community has very understandably becoming enraged. Multiple threads have popped up around the community and Reddit with hundreds to thousands of response, mostly condemning the way that Price has conducted herself.
Update: MMOGames has received an official response from ArenaNet PR:
"We are committed to fostering open, constructive dialogue with our community around our games. Earlier this week, two of our employees failed to uphold our standards of communication, and they are no longer with the company," said Mike O'Brien president of ArenaNet.

"I want to be clear that the statements they made do not reflect the views of ArenaNet at all. As a company we always strive to have a collaborative relationship with the Guild Wars community. We value your input. We make this game for you."
Here are a few quotes directly from Jessica Price:
Today in being a female game dev:

"Allow me–a person who does not work with you–explain to you how you do your job." https://t.co/lmK0yJWqGB

— Jessica Price (@Delafina777) July 4, 2018
like, the next rando asshat who attempts to explain the concept of branching dialogue to me–as if, you know, having worked in game narrative for a fucking DECADE, I have never heard of it–is getting instablocked. PSA.

— Jessica Price (@Delafina777) July 4, 2018
Since we've got a lot of hurt manfeels today, lemme make something clear: this is my feed. I'm not on the clock here. I'm not your emotional courtesan just because I'm a dev. Don't expect me to pretend to like you here.

— Jessica Price (@Delafina777) July 4, 2018
Our Thoughts
It's incredibly unfortunate that a public face of Guild Wars 2 has decided to act with such disregard for her community in a very public setting. In any other company or industry this would definitely not be tolerated, regardless of whether she is on the clock or not.
ArenaNet
,
Guild Wars 2
,
MMORPG
,
News