Speak softly, carry an absurdly huge piece of ballistic weaponry, and pose ridiculously. These are the tenants of the TERA Gunner, presumably, and console players of the MMO will be able to live their best anime-like blasting life with the arrival of the class to consoles.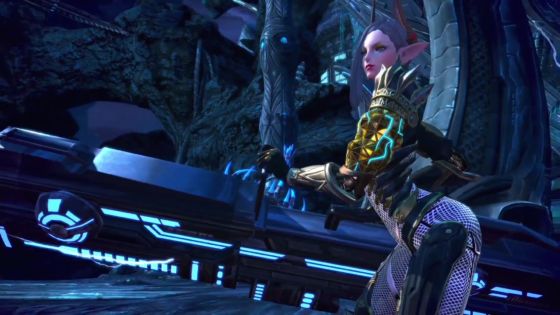 The Gunner class is a powerhouse DPS that wields a titanic Arcannon and brings a number of programmable combat constructs. Her massive weapon allows her to rain hell down on enemies at range, but her ability to wear heavy armor and take on close-range threats makes the class a threat at varying ranges.
While a firm date on when the new Gunner will make her arrival to Xbox One and PS4 isn't announced yet, fans can get a rundown of the Gunner's skills at this dedicated page. Fans are also urged to keep an eye on the TERA website for details on a planned pre-launch event.
You can also take a look at our preview from 2015 to get a general idea of what the Gunner is capable of, or just watch the teaser trailer below.
Our Thoughts
Body postures notwithstanding, the Gunner class absolutely looks like a bl–woop, sorry, was just informed by my superiors that I can't make that joke and should just wrap up this part of the news article. Well, blast.
Source: press release
Articles Related to TERA
TERA Reaches Two Million Players on Console
TERA PC Slips On a Gilded Mask and an Attack on Titan Costume
TERA PS4 Review
Related:
Console
,
MMO
,
New Class
,
News
,
TERA