Those who are fans of The Witcher are likely very familiar with the Nilfgaardian Empire. The empire's influence will soon spread to Gwent as a playable Nilfgaard faction is due to to arrive to the online TCG.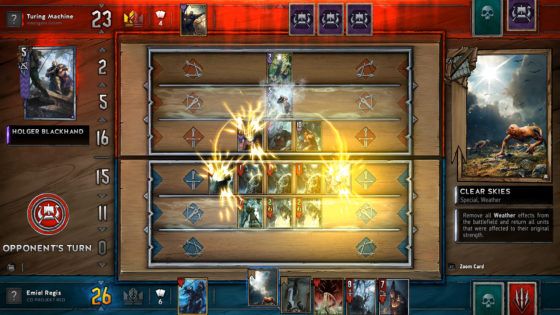 Nilfgaard's arrival is part of a major content update coming to Gwent which will bring over 60 new cards to the game. The Nilfgaard faction will focus on battlefield control, with abilities such as revealing an opponent's hand, re-ordering cards in player decks, and using turncoat units to trick enemies.
In addition to the new faction, new cards are being introduced to Northern Realms, Scoia'tael, Skellige, and Monsters, as well as faction-neutral cards. Everything in the update is set to arrive on Monday, February 6th for closed beta players.
Our Thoughts
You can't keep a good evil empire down! It's pretty much a foregone conclusion that Nilfgaard was going to make its way in to Gwent at some point or another considering the empire's place in the greater Witcher fiction. We're very curious to see what this new faction will do to Gwent's meta.
Your Thoughts
How do you feel about the Nilfgaard faction? Is this a set of cards you're going to work in to your game, or will you be coming up with counter strategies? Let us know in the comments.
Source: press release
Articles Related to Gwent
Gwent Lead Designer Leaves CD Projekt Red
Hands-On with Gwent at Gamescom
The MMO Alpha and Beta List: January 27, 2017
Related:
Gwent
,
News
,
TCG
,
Update