Perhaps now players of Gwent can stop being worried. The delayed Gwent: Homecoming release dates and the Thronebreaker release dates have both been announced, pulling the Witcher CCG out of beta at long last and releasing as a full title along with the game's standalone single-player experience.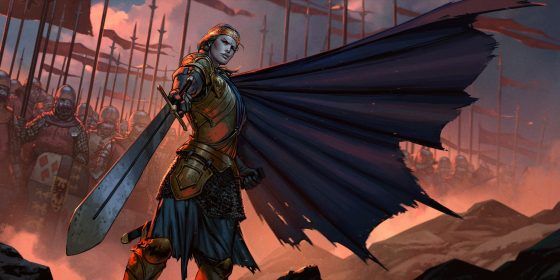 Both the Homecoming launch update and Thronebreaker will arrive to GOG on PC Tuesday, October 23rd, while Xbox One and PS4 players will have to wait until Tuesday, December 4th for the titles to arrive on their platform of choice. The Gwent devs apologize for the delay, but mention that console players can expect complimentary Kegs as recompense for the wait.
For those who haven't been keeping up, Homecoming is a paradigm shift for Gwent in a number of ways. Most notable is the addition of 3D models to the game, offering more dynamic visuals for both the cards and your chosen leader, who now stands aside the game board. The board has also been narrowed to only two lanes and a number of adjusted mechanics will be in play. A video from earlier in the month offers a more detailed breakdown of how it all works.
Thronebreaker, meanwhile, is offering 30 hours of single-player adventure that tells the story of Meve. The game promises to provide narrative-focused exploration, puzzles and card game battle mechanics in one single package.
A more recent video from the Gwent team confirming the release dates and showing off more of the new visuals was also part of the announcement. That can be seen below.
Our Thoughts
Wow, what a change! It has, admittedly, been a very long time since we've taken at peek at Gwent, but now that the game has a full release date confirmed it seems high time to revisit this addictive Witcher mini-game turned CCG.
Sources: official site, Twitter
Related:
Console
,
Gwent
,
Launch Date
,
News
,
Online CCG
,
Online TCG
,
PC
,
Release Date