Call it a relaunch, of sorts. Or, perhaps to keep with the zombie infection theme, a new mutation. H1Z1 has launched its Just Survive update, representing a renaming of the game along with what is being called the most comprehensive update in the survival sandbox's history.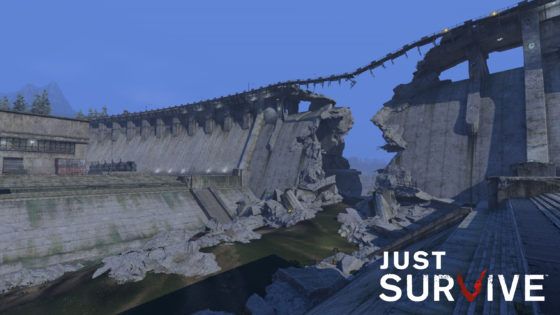 Just Survive's creative director Ben Jones says the newest update makes the game a more polished and mature experience overall. "Just Survive is about more than just killing zombies, it's about the player's survival journey," he said in a statement.
That polish comes by way of a new map and a number of new features. The new Badwater Canyon replaces the game's old locale and updates it with targeted loot distribution systems, strategic vertical areas, and new exploration opportunities. The map is described as built with multiple playstyles in mind, and will release zone-by-zone steadily over time as development progresses.
Players will now be able to build Strongholds in the game, creating bases replete with traps and defenses. Players will be able to build "robust" buildings and further customize them to make their Stronghold unique.
Combat has seen a deep amount of change, with weapons rebuilt from the ground up. Melee combat has also seen an overhaul, with new hit registration and attack animations introduced.
Finally, a new in-game Golden Eagle Coin currency has been added, granting found items trade-in value in an effort to remove item hoarding. Golden Eagle Coins are required to purchase new Stronghold locations and will see additional uses in the future.
You can take a look at everything that's new in Just Survive in the patch notes, or you can check out the trailer down below.
Our Thoughts
This refresh of the survival sandbox title into Just Survive sounds like a pretty impressive injection of content. We're definitely curious if this revamp of H1Z1 will be enough to rekindle player interest in the title or to draw in new arrivals. Do you think this update is enough to bring you back, or has something in H1Z1 turned you off utterly no matter what?
Source: press release
Articles Related to Just Survive
H1Z1 Will Become Two Different Games
The MMO Alpha and Beta List: August 11, 2017
Mini DayZ Brings the Zombie Survival Sandbox to Mobile
Related:
H1Z1
,
Just Survive
,
News
,
Sandbox MMO
,
Survival Sandbox
,
Update