Shortly after Ben Brode's surprise announcement of his departure from Blizzard, it looks like Hearthstone executive producer Hamilton Chu has also followed suit. On the exact same day as Brode's last day.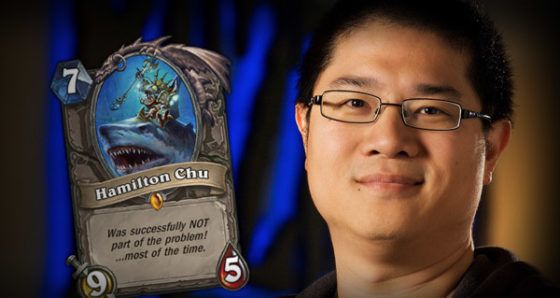 The reveal was made in response to Brode's sharing of his departure forum post on Twitter, where Chu replied with "Weird! It was mine too…" Additionally, Chu's Twitter bio simply states that he is "starting up something new", but otherwise has no additional information or even personal tweets outside of ones made in November of 2016.
The departure of both Hearthstone lead devs at the same time has begun to fuel rumors that the pair will be working on the game company Brode alluded to in his farewall forum post. The only additional common connection that links this rumor together is the fact that both Chu's and Brode's Twitter bios both look remarkably similar in terms of information and even formatting.
Hamilton Chu's body of work was mostly behind-the-scenes with Hearthstone, managing the game's planning and business operations. Prior to his post at Blizzard, Chu was a producer on the FPS titles Halo and Halo 2.
Our Thoughts
Maybe it's the tinfoil talking, but this all seems a bit too well orchestrated here. Whatever Mr. Chu and Mr. Brode are planning next will very likely be worthy of lots of attention. Assuming, of course, they're working on anything next together at all. Meantime, we'll be pondering the potential.
Source: Gosu Gamers
Articles Related to Hearthstone
Hearthstone Game Director Ben Brode Leaves Blizzard
Hearthstone Elaborates on The Witchwood's Monster Hunts
Hearthstone at PAX East 2018: New Cards and New Meta
Related:
Hearthstone
,
Industry
,
News
,
Online CCG