The best of the best in Hearthstone will soon have a new mountain to climb with the introduction of the Heroic Tavern Brawl, Hearthstone's newest competitive mode.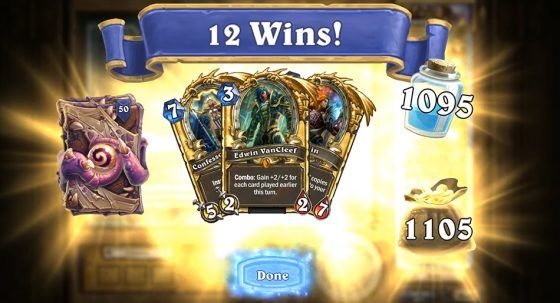 Those interested in testing their might have only to build a Standard deck and lock it in before their first Heroic Brawl match. Players will want to ensure they're happy with their deck, because once it's locked in it cannot be changed. Rules of Heroic are the same as the standard Tavern Brawl, with the goal being 12 wins. Lose three times, however, and you're out.
The players who do make it to 12 wins will be richly rewarded with 50 packs, three golden Legendaries and large sums of Gold and Arcane Dust. Rewards will scale with the amount of wins scored, so the more matches you're victorious in, the better the prizes.
Heroic Tavern Brawl will be a week-long event. It requires an entry fee of $9.99 or 1000 Gold and runs of the Heroic Brawl will be limited. Information about the Heroic Tavern Brawl was discussed in a video with game designers Dan Emmons and Pat Nagle, which can be viewed below.
Our Thoughts
Serving the truly competitive palyerbase of Hearthstone definitely makes sense, especially as Hearthstone tries to continue to make inroads in the eSports scene. The rewards being offered for the entry fee are rather rich as well. It all adds up to this week in Brawl being a particularly heated affair.
Your Thoughts
What do you think about the Heroic Tavern Brawl? Do you think the devs should create more special events like this, or do you think they need more casual events? Give us your thoughts below.
Source: official site
Articles Related to Hearthstone
Hearthstone Update 6.1.3 Bringing Changes to Classic Cards
Blizzard Hiring Hearthstone Player to Contribute to Game Design
Hearthstone Arena Removing Multiple Cards from Draft
Related:
CCG
,
eSports
,
Hearthstone
,
News