Blizzard's World of Warcraft inspired card game Hearthstone is making more money on mobile devices than it is on PC for the first time, as revealed by Superdata Arcade data.
The company reveals that the game's mobile revenue had remained fairly low since it was launched on iPad in April of 2014. Following the release of the phone version earlier this year however, mobile revenues have taken off drastically, jumping from $2 million to over $10 million.
Unfortunately this had a negative influence on the revenue made on PC, which has fallen from nearly $15 million to around $6 million. This goes to show that, in this day and age, it is no longer possible to live on a single platform or in a single market. Many franchises like Call of Duty, FIFA and Grand Theft Auto earn revenues across a range of channels. SuperData Arcade discovered that looking 'only at retail' or 'only at mobile' no longer works for publishers, as gamers play on multiple platforms at once, and spread their time and spending accordingly.
Superdata also shows revenue spikes around the time of the release of the game's Curse of Naxxramas and Goblin VS Gnomes expansion, which isn't entirely surprising as expansions have shown to boost sales drastically in other games.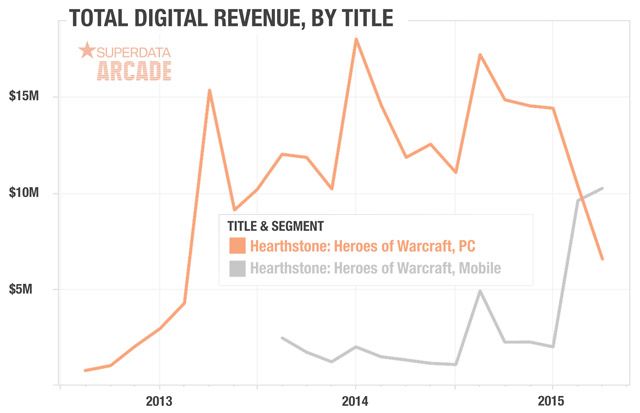 Source: Superdata Research
Related:
Blizzard Entertainment
,
Card Game
,
Hearthstone
,
Mobile