Hearthstone is making its way to Northrend and the Icecrown Citadel with its next expansion Knights of the Frozen Throne. The new expansion pack for the online CCG is introducing some dramatic new card types as well as a variety of mechanics that let players embrace the power of the Death Knight.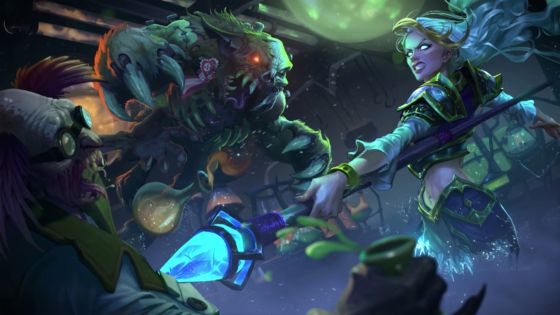 The upcoming expansion will offer up a brand new Hero card type, which will replace your current active Hero with an empowered Death Knight version. These new Hero cards replace your active Hero and introduce new mechanics including new Hero Powers.
The expansion will also introduce the Lifesteal keyword, which works similarly to abilities found in some existing cards. Lifesteal can be found on Minion or Spell cards and, as its name suggests, steals life to every target hit and returns that damage back to the player as healing. Many Minions in the expansion will also see heavy use of the Deathrattle keyword. In total, the expansion will add 135 new cards.
Knights of the Frozen Throne will also have eight single-player Missions for players to complete. Players must make their way through Icecrown Citadel and, ultimately, the Lich King himself. Those who complete the prologue will receive a random Death Knight Hero card, and those that surmount all of the missions will be rewarded with three card packs from the expansion. Better yet, every solo mission will be absolutely free.
Knights of the Frozen Throne is set to release in early August, with new cards set to be revealed starting on July 24th. Players can pre-purchase 50 expansion card packs for $49.99 if they're so inclined. More information can be found on the official site, and an announcement video with Ben Brode and Jason Chayes the Death Knight can be seen below.
Our Thoughts
There is a lot to consider for the overall strategy of Hearthstone with this new expansion, particularly with the new Hero cards and the Lifesteal keyword. We're definitely eager to learn more about just what the Knights of the Frozen Throne will be bringing to this game!
Source: official site
Articles Related to Hearthstone
Ragnaros Loudly Announces the Hearthstone Midsummer Fire Festival
Hearthstone Announces Changes to Card Packs
The Art of Hearthstone Book Offered on Amazon
Related:
Expansion
,
Hearthstone
,
Knights of the Frozen Throne
,
News
,
Online CCG