Cracking open a fresh pack of Hearthstone cards feels good. Until, of course, it's loaded with dupes or unwanted cards. Still, for a few brief moments, there's a nice sense of anticipation. That's what a new Hearthstone animated short is celebrating, along with a date for a free pack of cards.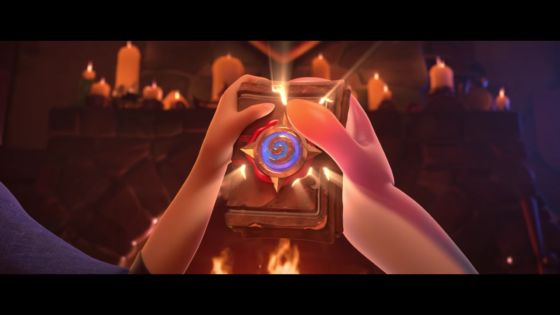 The video definitely puts the "short" in "animated short", coming in at just over a minute-and-a-half. That said, it further focuses on the characters of the Hearthstone Tavern that were first introduced in the Hearth and Home video that was released in August of last year.
In the short, Ava experiences her first New Pack Day at the Tavern, watching as the patrons each crack into their new pack of cards in their own…unique ways. The video also manages the neat trick of somehow making a Murloc adorable, because these are skilled animators who should be producing animated films already.
As for the free pack of cards thing, players who log in on Wednesday, June 13th can claim their own free Golden Classic Pack that's full of all-golden cards. Until then, feel free to peek inside the Tavern in the video embed below.
Our Thoughts
While some are likely going to only take away the fact that they're getting a free pack of cards, we're going to take a moment to focus on that adorable little Murloc. Like, seriously guys, how in the heck did they manage to make a murderous fish-beast look that adorable? It's sickening!
Source: official site
Articles Related to Hearthstone
Hearthstone Game Director Ben Brode Leaves Blizzard
Hearthstone Executive Producer Leaves Blizzard
Hearthstone Game Page
Related:
Hearthstone
,
News
,
Online CCG
,
Online TCG
,
Video